Back in April, Microsoft updated its DirectStorage API to version 1.2, bringing support to older drives and performance improvements to the technology that is all about leveraging GPU power to improve game load times on NVMe storage.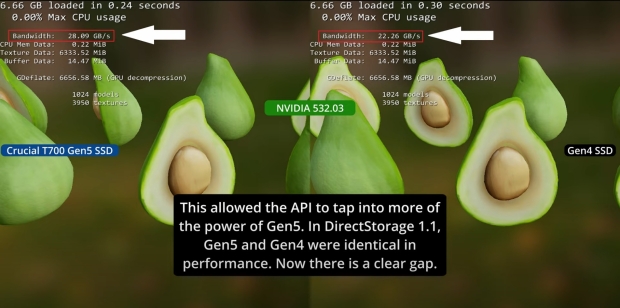 YouTube channel Compusemble, using the DirectStorage GPU Decompression benchmark and the latest Crucial T700 Gen5 SSD (which we hailed as the "world's best-performing retail SSD" in our full review), showcases the benefits of PCIe Gen5 over PCIe Gen4.
Using NVIDIA's 535.50 GeForce beta driver, we see some pretty impressive results thanks to the Crucial T700's Phison E26 controller and 2000 MT/s Micron 232L NAND. Compusemble notes that the latest official 535.98 driver release features the same GPU decompression optimizations we see here, so hopefully, we get to see the effects in games sooner rather than later.
The first benchmark shows a clear advantage for Gen5 storage, with 28.09 GB/s bandwidth compared to the Gen4 SSD's 22.26 GB/s - a 26% increase. DirectStorage 1.2 moves the copy to the compute queue after the GPU decompression, and the results are impressive for Gen5 because, in previous versions, both Gen4 and Gen5 SSDs performed roughly the same in this test.
Switching to the latest NVIDIA drivers, we see the performance difference increase in favor of Gen5 SSDs, with the bandwidth now sitting at 33.12 GB/s for the Crucial T700 compared to the Gen4 SSD's 22.80 GB/s. A 45% lead in bandwidth and a 31% reduction in loading times. Loading the scene in 0.20 seconds is instantaneous, so DirectStorage can't come soon enough to most new PC game releases.
Currently, only Square Enix's Forspoken supports the technology, so here's hoping Microsoft, NVIDIA, AMD, and others can get the tools to game developers for wider support in the coming months.