The $12.7 billion merger with Zynga has pushed mobile as the lead revenue-generating platform for publisher Take-Two Interactive.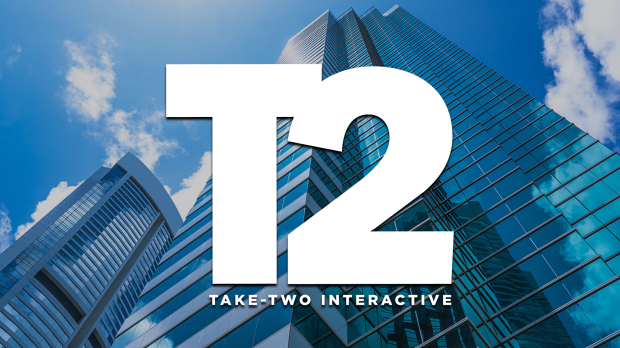 Take-Two Interactive is mostly known for delivering mega franchises like Grand Theft Auto, NBA 2K, Red Dead, and Borderlands. However, following its mega-merger with Zynga in May 2022, mobile gaming quickly conquered the business in terms of earnings. The company's annual 2023 SEC filings give an important look at Take-Two Interactive's current place in the industry and it's growth-oriented trajectory.
According to the filings, recognition of Zynga's earnings boosted TTWO's Fiscal Year 2023 earnings by $1.845 billion year-over-year, leading to a total of $5.349 billion in net revenue earned during the year. Zynga made up 40% of total company revenues and its stable of popular free-to-play games pulled in $2.159 billion, helping offset over $300 million reduction in GTA earnings and over $71 million drop in Borderlands franchise revenues.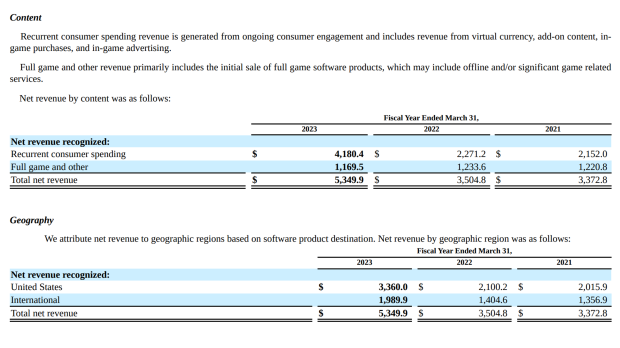 Mobile gaming made up 47.1% of total net revenues for FY23, or $2.538 billion. Console came in at a close second with $2.303 billion, but PC dropped down to $507.5 million and accounted for less than 10% of overall revenues.
The rise in mobile also coincides with a massive spike in recurrent consumer spending (RCS), which includes in-game purchases, microtransactions, DLC, etc. In FY23, Take-Two's RCS leaped by 84% year-over-year to $4.180 billion.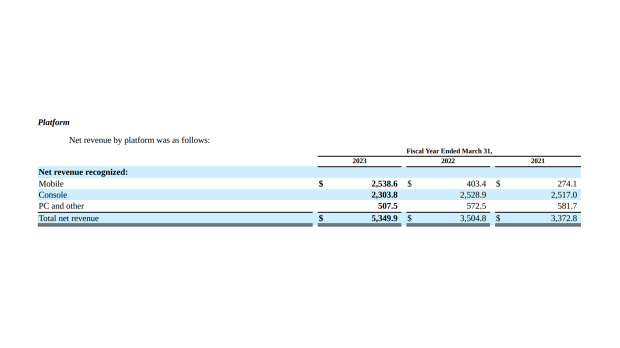 Microtransaction spending accounted for 78% of Take-Two's total net revenues for the year, and full game purchases made up 22%.
Digital is weighted by RCS and mobile, both of which led the charge in FY23, so predictably this segment also saw substantial growth. Digital online made up 95% of TTWO's revenues, a value in excess of $5 billion. Retail and physical distribution made up 5%.
One interesting thing to note is that Take-Two made $614 million from advertising, which demonstrates Zynga's powerful adtech platform.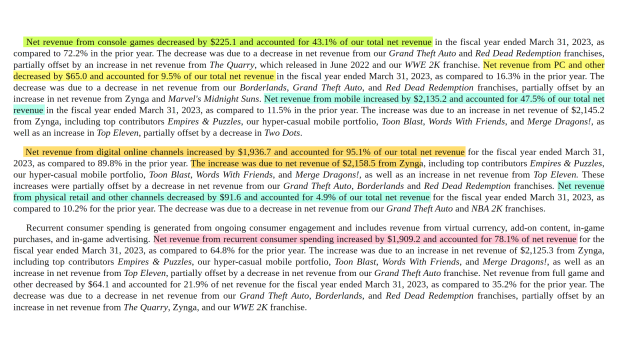 Revenues might be high, but so are costs. Take-Two reported a net loss of $1.124 billion due to higher cost of revenue and operations. Total operating expenses were $3.450 billion and cost of revenue was $3.064 billion, leading to a total of $6.514 billion in costs for the FY23 period.
These metrics give a clear perspective into Take-Two Interactive's current strategy as well as context into its significant growth projections. Take-Two expects to make $8 billion in net bookings in FY25 and FY26, a jump that could imply the release of Grand Theft Auto 6, but also includes a wave of new games across all genres and platforms (including mobile).