G.Skill has decided it wants to compete with Elgato's immensely popular Stream Deck with its own version called the WigiDash PC Command Panel.
G.Skill had the WigiDash on display at Computex 2023, and officials from the company ran me through all of its specifications, use cases, and what the company plans on achieving with its release. The WigiDash is a simple, yet diverse product as it sports a customizable 7-inch touch-display at a resolution of 1024 x 500 pixels, and with G.Skill's software, which is still in development, users will be able to change the size of each of its on-screen widgets.
Essentially, the WigiDash is meant to act as a gamer assistant, displaying all of the necessary system specifications, such as component clock speeds, temperatures, etc. G.Skill explained to me that buyers will be able to add a multitude of widgets to the WigiDash, depending on the widget support. Notably, the WigiDash comes with a USB 2.0 connection and requires at least Windows 10, preferably Windows 11 (64-bit).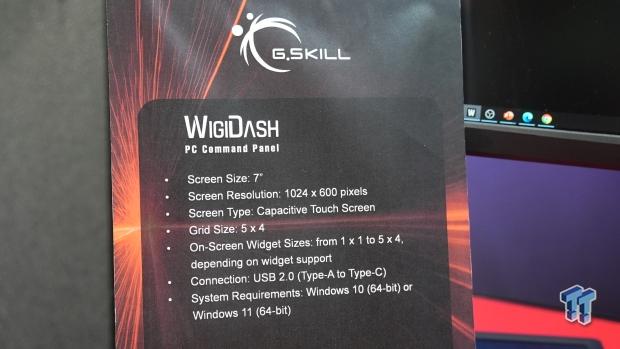 So, what can it do? Users are able to launch specific apps and utilize other widgets to perform inputs within those applications. Another aspect of the WigiDash that should be highlighted is the integrated Twitch app support. Users are able to link the Twitch widget to a specific streamer's account, and when that streamer goes live, the widget will automatically begin displaying the stream. Unfortunately, G.Skill said that the WigiDash isn't able to display real-time weather or financial data and instead updates its widgets every three hours.