Look at any high-end GPU release for the past four or five years and have undoubtedly noticed that they got bigger, thicker, and heavier. GPU sag has become such a thing that brackets usually come packed in with brand-new GPU releases as standard.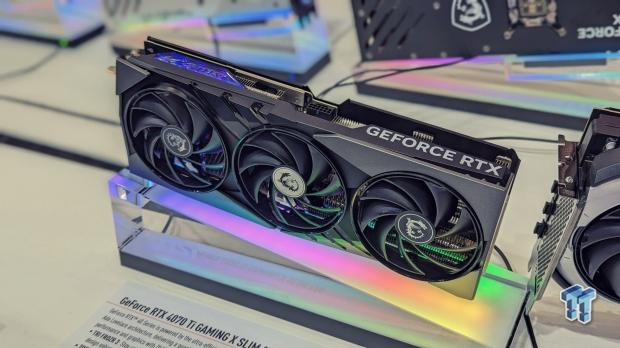 This is something that hardware makers have noticed too, and MSI has heard the feedback loud and clear; people would like to see thinner, sleeker, and more GPUs that can fit in smaller form-factor cases and on desks with limited space. And with that in mind, it's creating a new range of GeForce RTX 40 Series cards based on its popular and critically acclaimed Gaming X series, called the Gaming X Slim.
Starting with the GeForce RTX 4070 Ti Gaming X Slim (which is available first), the new Gaming X Slim range will cover the entire 40 Series line-up - including the GeForce RTX 4080, 4090, 4060 Ti, and the upcoming 4060. All are on track for release this year too, and we had the opportunity to look at the new RTX 4070 Ti Gaming X Slim at Computex 2023.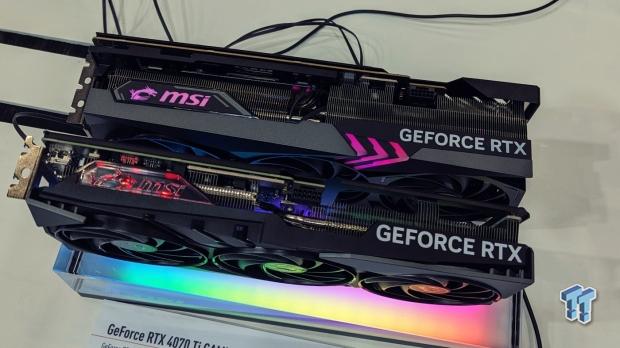 And we could compare the thickness to other Gaming X GPUs MSI had on display, and the difference was night and day. MSI told us that going thinner won't adversely affect cooling (which for the new GeForce RTX 40 Series has been exceptional for MSI cards) as they still feature the same TRI FROZR 3 and TORX FAN 5.0 cooling and a copper baseplate to transfer heat from the GPU to the heat pipes.
MSI has ensured that the pipes have complete contact with the entirety of the GPU, too, so we expect that cooling won't be an issue for the Gaming X Slim range.
Stay tuned to TweakTown as we plan on going hands-on with this new series as it becomes available.