Microsoft has filed an appeal with the Competition Appeals Tribunal that argues why the CMA's merger block decision should be overturned, but some of these points aren't very strong or compelling.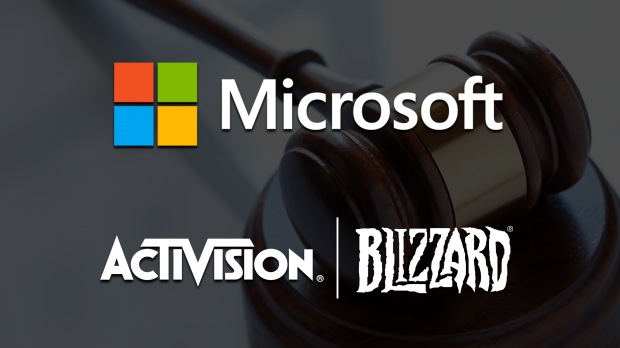 Note: This is an opinion piece that builds an argument based on market trends and video games industry data.
In a new appeal filing, Microsoft legal counsel has listed five key reasons why the CMA was wrong to prohibit its $68.7 billion merger with Activision Blizzard King. The UK's Competition Appeals Tribunal, who oversees appeals in competition cases, has published an application summary that outlines Microsoft's appeals arguments. While a portion of these could be sound, including assertions that the CMA made "fundamental errors" in determining Microsoft's cloud gaming market share, some of the arguments just don't have much weight behind them.
More specifically, grounds 3 and 4a do not seem entirely viable. Ground 3 makes the case that the CMA was "irrational" to conclude that Activision would bring its games to cloud streaming services if the merger didn't go through. This bears more examination.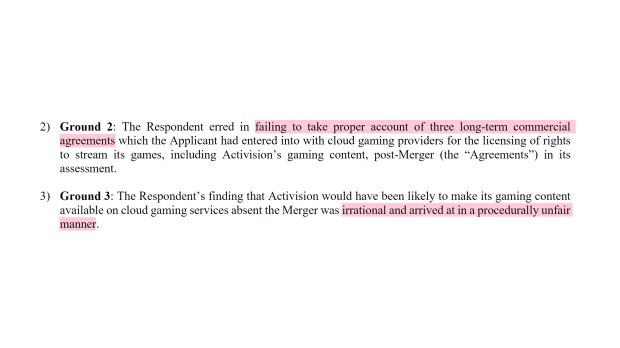 The reality is that Activision offering its games to services like GeForce Now and Boosteroid wouldn't actually hurt the company in any other way except for potential reputational harm due to cloud gaming's range in gameplay performance. Cloud gaming relies heavily on internet connection speeds, which can often be in flux, so there's no guarantee of specific higher-end performance during the entire gameplay experience.
Other than that, it actually makes good business sense to offer these games to these services. Remember that GeForce Now and Boosteroid are Bring-Your-Own-Game (BYOG) services that require subscribers to have already purchased the game they want to stream. So Activision-Blizzard would not miss out on sales of its games, if, of course, it was able to tie Battle.net purchase licenses to the streaming services.
As evidenced by the Microsoft Cloud Remedy that was published by the CMA, Activision-Blizzard could probably also negotiate a deal where the publisher keeps 100% of all in-game purchase revenues made by consumers who are streaming the games.
This is the case for Microsoft's 10-year licensing deals with GeForce Now and Boosteroid, so Activision may be able to make a similar deal.
Given these points, it's entirely feasible to think that Activision could one day offer its games on cloud streaming services because A) users still have to buy the games, so there's no cannibalization effects that Activision-Blizzard will literally face if the merger goes through and these titles are offered day-and-date on Game Pass; and B) Activision could negotiate a deal so that it keeps all monetization revenues from purchases made in streamed games.
There seems to be very little downside unless, of course, Activision were to launch its own multi-game subscription platform with some form of game streaming, like a publisher-specific Xbox Game Pass Ultimate offering.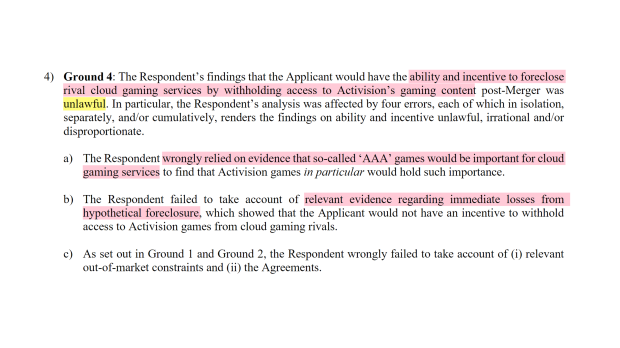 Ground 4a, on the other hand, is much more apparent in its weakness.
Microsoft legal counsel makes a point that goes against basic market sense and counters everything we know about entertainment subscription services, especially multi-game subscription services like Xbox Game Pass, PlayStation Plus, and Nintendo Switch Online, but also cloud streaming services that are similarly reliant on value.
In ground 4a, Microsoft legal counsel says that the CMA "wrongly relied on evidence that so-called AAA games would be important to cloud gaming services to find that Activision games, in particular, would hold such importance."
This seems to imply that cloud gaming services do not need to rely on AAA hits in order to attain subscribers. This is not the case. Cloud gaming services are value-oriented services, and therefore must rely on value in order to effectively compete in order to be successful.
We've seen this play out in dramatic fashion with multi-game subscription services.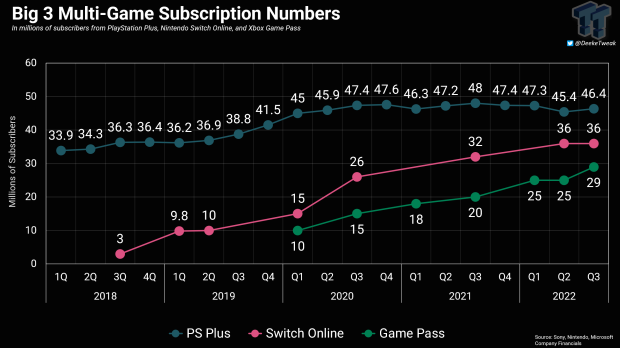 The first MGS was Xbox Game Pass, a subscription that was so powerful that it disrupted the entire video games industry and ushered in a new wave of value-oriented subscription content. Nintendo broke the mold by combining its Virtual Console into a subscription-based format with Nintendo Switch Online, and Sony followed Microsoft to combine PlayStation Plus with PlayStation Now, and offer a new innovative 3-tier PS Plus model.
The MGS services that incorporate cloud game streaming, PS Plus and Xbox Game Pass Ultimately, rely heavily on big high-quality AAA games for a large part of their value. Users are much more likely to subscribe if there are big games offered on the service--this is also true for other entertainment subscriptions like Netflix, Disney+, and HBO Max.
In the cloud gaming services front, more specifically with non-MGS services like Boosteroid and NVIDIA's GeForce Now, this reliance on value is still true.
While these services do not host games or make available the games for commercial purchase, they still must attain a license for the games in order to stream them, and these high-quality games are still extremely important to attract consumers and subscribers.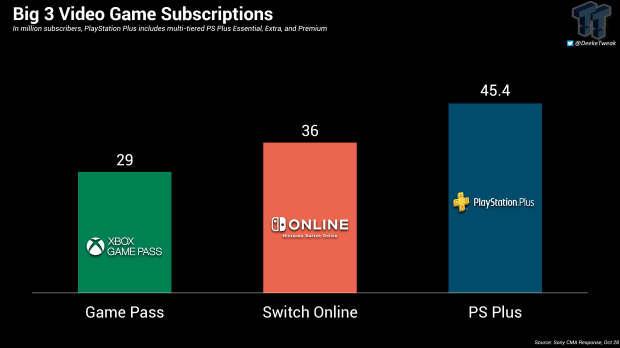 The entire ethos of the value-oriented business model is a reliance on value. This is most often presented with a content mix of quantity and quality, and AAA games belong to the latter group. PS Plus and Game Pass offer access to hundreds of games that vary in terms of quality, genre, scope, features, etc.
The same is true for NVIDIA GeForce Now, which offers streaming of over 1,500 games, and Boosteroid likewise offers access to dozens upon dozens of titles. It's just the method of access is different because these services require users to already own the games before they can stream them.
On the other hand, the full claim is that the CMA used evidence that AAA games "would be important" to cloud gaming services in order to argue that Activision games would summarily be just as important.
Here at TweakTown, I've tried to reiterate just how big Activision-Blizzard is and how gigantic its titles have become. Call of Duty, for example, has sold over 425 million copies and generated over $31 billion in revenues. For the AAA gaming market, there are few titles that are bigger than Call of Duty. If AAA games are important to cloud gaming, then Activision games could indeed be important for cloud gaming by virtue of their size.
It's not just Call of Duty, though. Activision Blizzard King has 8 separate video game franchises that have all made over $1 billion in revenues. The three top contributing games to ABK's earnings are Call of Duty, Warcraft, and Candy Crush. The company weighs its performance metrics based on the strengths of these three franchises.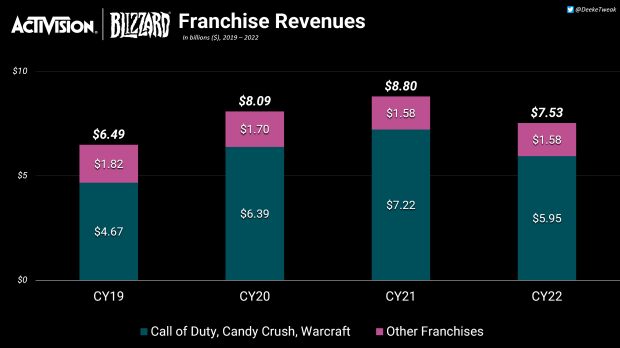 Currently, it is argued that these games are not important to cloud gaming because they are not available via cloud gaming. The idea is that cloud gaming service providers are still making money even without the inclusion of Activision games. This is true. Even with a plethora of AAA games, the cloud gaming sector does not need Activision titles in order to operate.
However, the implied value proposition is still there, and the size of these games remains one of the biggest reasons why the European Commission accepted Microsoft's remedies; the games are just too big to be exclusive to any one service. The remedial actions suggest that if the games are to be made available to one service, they need to be made available to all services.
It's also worth mentioning that the cloud gaming sector is currently a very small portion of the overall global games market. According to the European Commission's VP Margrethe Vestager, cloud gaming makes up 1-3% of games industry earnings. But the inclusion of Activision games could certainly change that.
While it is arguably hard to effectively present clear instances of subscription growth based around the content offered on these subscriptions, largely because the companies themselves do not present this kind of data or information, the basic core principles of a value-oriented subscription model still remain.
And this model would not exist if it were not successful to a large degree--the market would demand its eradication if that were the case, and everyone involved, from Microsoft and Sony to NVIDIA and Nintendo would be happy to oblige if it meant reducing losses.