NVIDIA's 'Summer of RTX' giveaway has returned, and this time, Team Green is making a whole load more freebie GPUs available compared to last year.
In total, there are 460 - yes, you read that right, 460 - graphics cards to be given away over the course of this summer, one way or another.
Compare that to last year's sweepstakes, in which NVIDIA sent out 15 freebie GPUs (RTX 3080 Ti models) plus a couple of very expensive gaming PCs and laptops.
There's a twist here, though, in that this year's prizes are partly in the sweepstake, and the rest are being given out in a contest for content creators.
So, gamers get the chance to win 170 GPUs (plus a couple of monitors and GPU backplates), which are mostly GeForce RTX 4060s - 164 of them. There's also an RTX 4060 Ti Founders Edition up for grabs, and a pair of NVIDIA's own RTX 4080 and 4090 graphics cards. Oh, and a GeForce RTX Garage 4090 build, a gaming PC worth a cool $7,500.
Of the sweepstakes, NVIDIA tells us:
"Throughout the summer, we'll focus our social coverage on all of gaming's top events and game launches. Pay attention to all of our posts and follow the simple prompts to share your excitement for GeForce PC gaming with #RTXOn."
The rest of the GPUs, which is 300 of them, are prizes for content creators in that mentioned contest. Those creators will be nominated to win an RTX 4060 Ti Founders Edition, and as well as that, they can then nominate a further two people (in their community) who will get an RTX 4060.
The total prize value across all of this is $150,000, and the campaign runs from now until September 20, 2023. So keep watching NVIDIA's social media like a hawk from today, basically, responding to those prompts.
Going by our maths, this adds up to 300 + 170 = 470 GPUs, rather than 460, but maybe we've misunderstood something, somewhere. It's entirely possible, and at any rate, it's a huge number of graphics cards to be giving away, make no mistake.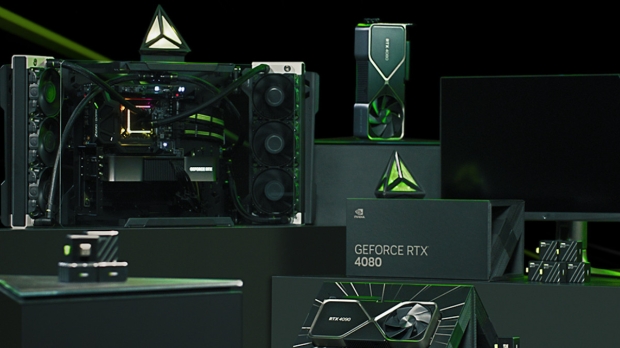 Pass the cold water
Obviously it's difficult to pour cold water on such a giveaway, but heck, we're going to try anyway. This feels like something of an effort to placate, or somehow compensate, gamers who have been price-gouged to the back teeth at the hands of Lovelace pricing thus far - excepting the RTX 4060 range which is (finally) pitched more affordably (but isn't on sale yet).
Although arguably, that's mainly the case with the RTX 4060 (which is under the MSRP of the RTX 3060, and that's great to see), but not quite so much with the 4060 Ti - which sticks at the same MSRP as its predecessor, while not offering all that much of a performance uplift from what we know at this stage (15%, DLSS 3 aside). And the 16GB version of the RTX 4060 Ti certainly looks overly expensive at $499.
Still, at least NVIDIA is relenting on the pricing front with Lovelace, finally - to some extent - and this chunky giveaway obviously isn't a bad thing, with a serious boatload of graphics cards going out for free.
Clearly, we cannot complain about that - and we aren't - but still, lurking in the back of our mind (and doubtless the minds of other more cynical types out there) is the sense that this does feel like something of a PR exercise in damage control for exorbitant Lovelace price tags.