10 years after release and multiple re-releases, Grand Theft Auto V is still selling strong.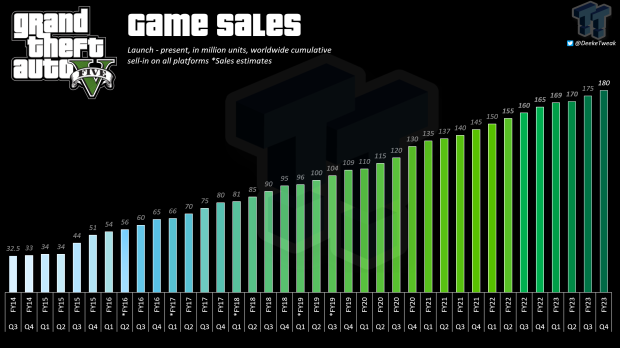 In its Fiscal Year 2023 report, Take-Two Interactive recently updated total Grand Theft Auto franchise worldwide shipments. As of March 2023, the GTA series has shipped 400 million copies, and Grand Theft Auto V has sold-in 45% of total shipments. This puts GTA V sell-in figures at 180 million.
It certainly helps that Grand Theft Auto V is the longest-running single game in the franchise, with releases across multiple console generations (Xbox 360/PS3, Xbox One/PS4, Xbox Series X/S and PS5) alongside PC releases on multiple storefronts like Steam, the Epic Games Store, and the Rockstar launcher.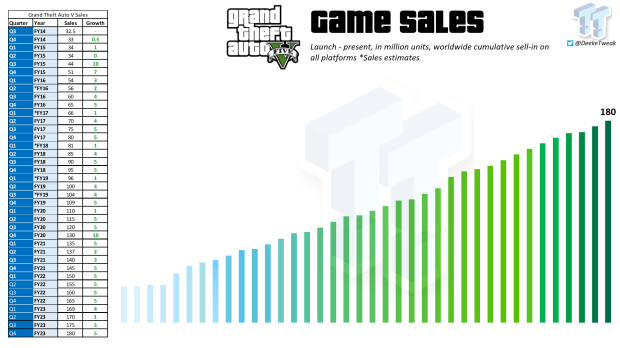 Outside of strong shipments and continued sales across all platforms, including the newer re-releases on PlayStation 5 and Xbox Series X/S, both GTA V and GTA Online continue to generate millions of dollars in revenue per quarter. Take-Two management notes that the GTA premium game-online mode combo was the third largest material contributor to its net bookings of $5.28 billion.
We'll be able to determine how much money that the GTA series made in FY23 once Take-Two publishes its 10-K annual report.
In other Grand Theft Auto news, Take-Two strongly indicated that GTA 6 could launch sometime during its FY25 period, which runs from April 2024 to March 2025. The company forecasts to make over $8 billion in net bookings, which is nearly $2.5 billion higher than its current bookings, and it's believed that only a franchise as large as Grand Theft Auto could account for this massive spike.