Intel's latest Game On Driver for Intel Arc Graphics is here, supporting some new PC game releases like Starship Troopers: Extermination, The Lord of the Rings: Gollum, and the online co-op horror of The Outlast Trials.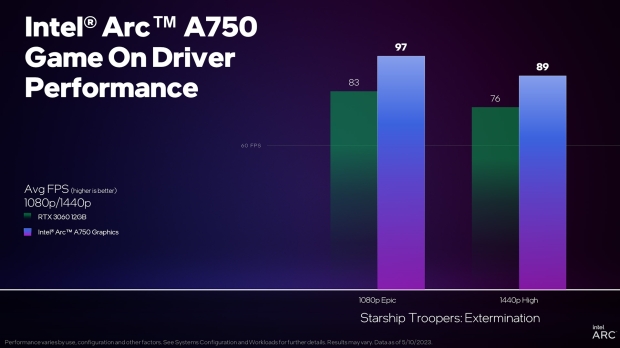 When it comes to the in-game performance for the fun-looking riff on a classic sci-fi film, Starship Troopers: Extermination, Intel notes that the Intel Arc A750 Graphics card can deliver better greater-than-60fps performance than the GeForce RTX 3060 12Gb at both 1080p and 1440p using the 'Epic' and 'High' settings respectively. The game also supports Intel's DLSS-like AI upscaling in the form of Intel XeSS - which can help push 1440p performance to around 115fps.
For next week's launch of The Lord of the Rings: Gollum, the new Game On Driver will lead to a smooth 60fps on the Intel Arc A750. Another Intel XeSS highlight for the new driver release is support for The Witcher 3: Wild Hunt to support the recent next-gen update that brought ray tracing and more advanced visuals to the iconic RPG. XeSS will allow for near 60fps performance using the game's demanding Ultra settings on the Intel Arc A750, though that's using the XeSS 'Performance' mode.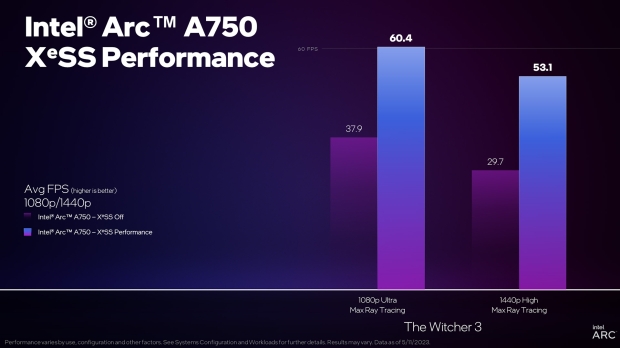 And the new driver reaffirms Intel's commitment to improving performance in older titles, with the Minecraft's ray-tracing seeing a sizable increase in performance with this new release.
Some additional good news with this release is a list of overhauls and improvements to the Intel Arc Control app, with shortcuts to resolution settings, new VRR status info, fan speed controls, camera filters, and more.
Here are the highlights.
Display Page

A new display page is now available in Intel® Arc Control that allows users to view connected display information as well as shortcuts to the OS for changing resolution and refresh rate of displays.

Variable Refresh Rate status and control is now available within the new Display page.

Resizable BAR Status

Resizable BAR status reporting within Intel® Arc Control now contains a drop-down menu to view per graphics device Resizable BAR status.

Driver Update Beta Opt-In

Recently introduced improvements for the driver update feature within Intel® Arc Control allows users to opt-in to the beta releases of drivers made available on intel.com. Users can now also view the type of release which is installed as well as release notes for that release within Arc Control.

Search Bar

A new feature available within Intel Arc Control that allows you to easily and quickly search for and navigate to features within the user interface.

Performance Telemetry Support

Telemetry within the performance page of Intel® Arc Control now has a drop-down selector that allows telemetry for supported graphics products connected to your system to be viewed.

Fan Speed Controls

Added new fan speed controls within the performance page under performance tuning configuration of Intel Arc Control.

Automatic allows the driver to control your fan speed behavior.

Fixed fan target enables a static fan speed.

Fan curve enables a dynamic fan speed to adjust fan speed with temperature targets.

Virtual Camera Filters

Lighting adjustments enable auto and manual adjustment of lighting conditions.

Background replacement has been improved with the ability to adjust color balance.
To download the latest driver - head here.