With all the debate surrounding VRAM capacity for playing modern PC games, the rumor is that NVIDIA plans to release a 16GB variant of the NVIDIA GeForce RTX 4060 Ti sometime in July. This will follow the launch of the 8GB model planned for later this month, though both models have yet to be officially announced.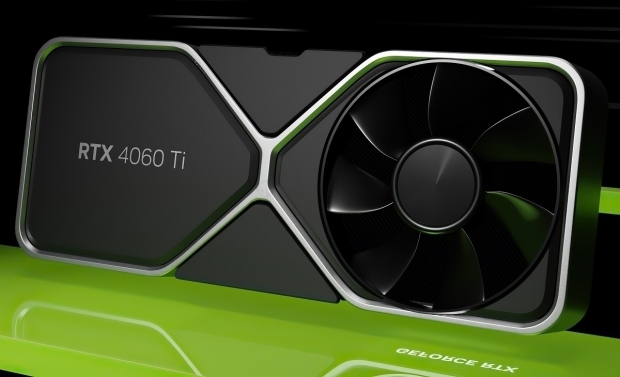 The reason for the slight delay, assuming this is a direct response to the vocal community wanting to see more 16GB cards, looks to come down to power. According to new reports, the 16GB variant of the RTX 4060 Ti will feature a different GPU than the AD106-350 chip in the 8GB model.
The jump is minor, to 351, with a new power rating of 165W - 5W higher than the 8GB model. This information comes via Videocardz.com, which cites NVIDIA documents provided to its board partners as the source. Full details for the AD106-351 chip have not been made public (officially or leak-wise). Still, the expectation is that things like CUDA Core counts and even memory speeds (18 Gbps) will remain the same, with the only difference being capacity.
This also brings to mind the whole GeForce RTX 4080 12GB situation, where it turned out that everything was different between the two models - to the point where NVIDIA renamed it to become the GeForce RTX 4070 Ti. So odds are NVIDIA won't release a significantly different GPU with the GeForce RTX 4060 Ti 16GB naming.
The NVIDIA GeForce RTX 4060 Ti 8GB is set to launch on May 24, with the 16GB variant due in the second half of July.