There's a consensus that GPUs like the GeForce RTX 3070, or anything with 8GB of VRAM, are entering an "end of life" phase when it comes to playing newly released PC games at 1080p and 1440p with detail settings cranked up.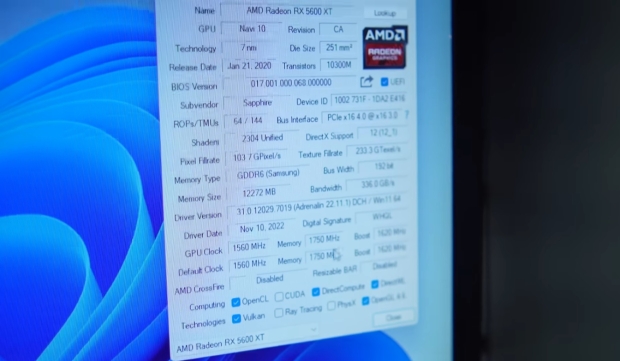 A few weeks ago, we reported on a new video from YouTuber Paulo Gomes that saw him successfully modding an RTX 3070, upping the VRAM to 16GB - and it worked. For VRAM-intensive titles like the recent Resident Evil 4 Remake, it increased the 1% lows by a whopping factor of 9X, showcasing that VRAM capacity can make a difference.
Today comes a new video from modder Paulo Gomes detailing how he upgraded the memory of AMD Power Color Radeon RX 5600 XT Red Dragon - taking its 6GB capacity up to 12GB. Not only that, but the memory was replaced with faster 16Gbps chips.
The process was more straightforward than upgrading memory on other cards, as the six existing memory modules were swapped for the six new ones. Of course, that's for a seasoned modder, as the process involved heating the connection points between the memory and PCB to safely remove them without damaging the hardware.
Since the Radeon RX 5600 XT did not feature a 12GB variant, a BIOS mod was required - something that isn't possible for modern NVIDIA GPUs. This means that older AMD GPUs are more susceptible to this type of upgrade, which could lead to many out there taking a stab at upgrading the memory capacity of older Radeon hardware.
Regarding the increase in performance, Gomes ran a Unigine Superposition benchmark at 10K to fully push the VRAM side of the Radeon RX 5600 XT and saw a massive score increase of 412 points with 12GB compared to 191 points with 6GB - a 116% increase. Of course, this sort of increase won't translate directly to playing games - but in instances where the 6GB of VRAM proves to be a bottleneck, the increased capacity would most likely improve performance.