Popular streaming tool OBS Studio just got a new release with version 29.1, bringing AV1 streaming to YouTube over Enhanced RTMP. As per NVIDIA's latest post, this is perfect for the GeForce RTX 40 Series line-up that features real-time AV1 hardware encoding as standard across desktop and laptop variants.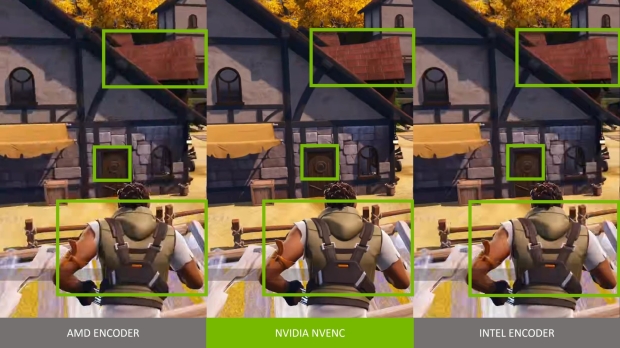 NVIDIA notes that not only does AV1 offer better image quality using the same bitrate as H.264 encoding on previous generation GeForce RTX GPUs, but the new GeForce RTX 40 Series is also 40% more efficient, meaning that you can stream at 4K using roughly half the bitrate to get the same result as using H.264.
NVENC, short for NVIDIA Encoder, puts all hardware encoding onto the GPU versus the CPU. With AV1 designed and becoming the standard for streaming, NVIDIA's latest graphics cards are ideal for content creators on platforms like YouTube and Twitch.
Even though NVIDIA's article on AV1, OBS, YouTube, and the GeForce RTX 40 Series is all about what the new video standard brings to the table, it does feature an image that is a little left-field. And this is where we got the headline for the article you're reading.
NVIDIA doesn't verbally state that AV1 encoding is better on GeForce RTX 40 Series hardware, instead, it shows the image you see above, which does the same thing by showing inferior image quality above the AMD ENCODER and INTEL ENCODER heading.
A footnote at the end of the article notes that the image depicts "4K60 AV1 encoded video with AMD Radeon RX 7900 XT, GeForce RTX 4080, and Intel Arc 770 with OBS Studio default settings at 12Mbps."
Shots were fired, and all without saying a word.