Microsoft may have cancelled the popular $1 Game Pass trial promo, but a new deal has taken its place.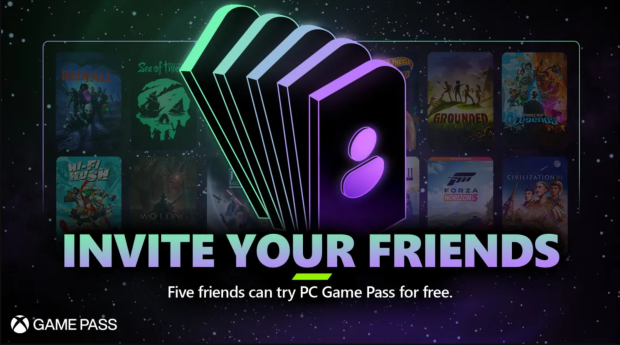 Microsoft today announced a new Game Pass refer a friend program that allows current Xbox Game Pass Ultimate and Game Pass PC subscribers to share a 14-day free trial with up to 5 friends.
The trials are limited to PC Game Pass, so you won't be able to try the console version of Game Pass for free, and it's likely that Microsoft is trying to boost engagement, in-game spending, and games subscription adoption on Windows platforms. Microsoft management had recently announced that Game Pass and other subscriptions had generated nearly $1 billion from Jan - March 2023.
"The free trial comes with all the benefits of PC Game Pass, including new titles from Xbox Game Studios on day one, an EA Play membership, and you can check out the biggest PC and mobile games on PC from Riot Games. Link your Riot Games account and Xbox profile to unlock the greatest Agents, champions, little legends, XP boosts, and more in Valorant, League of Legends, Teamfight Tactics, and Legends of Runeterra."
PC Game Pass is quite robust and features access to a pool of 365 games, including a number of first-party games from studios like Bethesda Softworks, id Software, and a smattering of other studios like Rare, Turn 10, and Obsidian.
The PC version of Game Pass also includes EA Play titles and Ubisoft Connect games, including Battlefield 2042, the new Mass Effect remasters, Jedi Fallen Order, and original Dragon Age titles. Ubisoft offers eight games including Assassin's Creed Odyssey, Rainbow Six Siege, Watch Dogs 2, and Far Cry 5.