There's so much news relating to foldable phones right now you could absolutely be forgiven for losing track of what's going on and with which phone. But the latest leak relating to Samsung's Galaxy Z Flip 5 is well worth paying attention to because it might be our first proper look at what the phone will look like. And if this is the real deal, it's going to look pretty stunning.
The Galaxy Z Flip 5 isn't expected to launch for a few months yet but it's started to leak in various different ways. This new set of renders from OnLeaks and Media Peanut shows us a black Galaxy Z Flip 5 in all its glory, with both the internal display and the new, larger external one available for us to gawk at.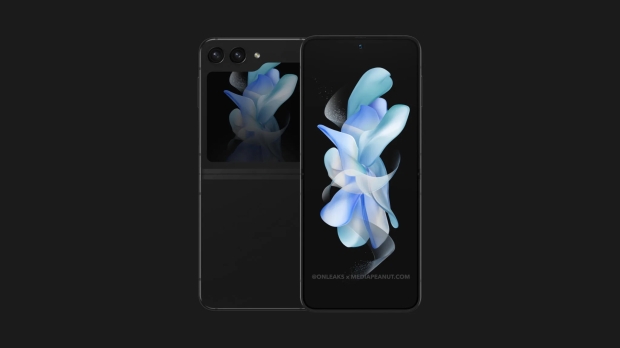 It's that external display that is sure to capture the attention of a whole lot of people because it's massive compared to the one that we've seen on previous Galaxy flip phones. It now appears to take up almost half of the entire face of the phone which is a big improvement.
As for other tidbits, we can see a dual camera setup that reminds us of the phones of recent years while a USB-C port and speaker appear to be on the bottom edge of the device. There's a power button that is sure to do double duty as a fingerprint scanner on one side as well, although that's the kind of thing we can probably take for granted at this point.
On the inside, we're expecting the Qualcomm Snapdragon 8 Gen 2 to be at the heart of the Galaxy Z Flip 5. We expect it to be a Samsung-specific version just like the chip that powers the Galaxy S23 lineup, although that might not be the case - we're making some assumptions here.
As for when the phone will likely be announced, the smart money is on something around the July or August time frame, with some rumors pointing to the former. It's still a little too early to know what Samsung has planned with any certainty of course, and it's possible that even Samsung itself hasn't locked these kinds of details in just yet.
Samsung will also likely announce the Galaxy Z Fold 5 during the same event, whenever it does happen, while Google is expected to announce the Pixel Fold much sooner - its Google I/O event on May 10 seems to be the most likely announcement window right now.