NASA's Mars helicopter has taken its 51st flight, and throughout, it has snapped an incredible photograph of the Martian landscape, which features Ingenuity's companion Mars rover, Perseverance, and a mysterious shiny object.
The Mars helicopter, which has impressed NASA engineers time and time again, took off from the surface of the Red Planet on April 22 to embark on its 51st flight. From an altitude of 40 feet, Ingenuity snapped the above photo showing the desolate Martian landscape, with a curious and motionless Perseverance located in the top left-hand corner of the frame. Given the distance between Ingenuity and Perseverance, along with the dusty environment, NASA's newest Mars rover blends into the background and could easily be mistaken for a distant Martian rock.
The image was posted to the NASA JPL Twitter account on April 24 and explained that during Ingenuity's 51st flight, the helicopter was airborne for 136.9 seconds, traveled a horizontal distance of 617 feet at 8.9 mph, and reached a maximum altitude of 40 feet. So, what's NASA doing with a helicopter on the surface of Mars? Ingenuity was originally sent to Mars to test if it was possible to design an aircraft capable of flying on another planet. The initial objective was quickly achieved by Ingenuity thanks to its specially designed rotors that rotate 10 times faster than what is required to fly on Earth.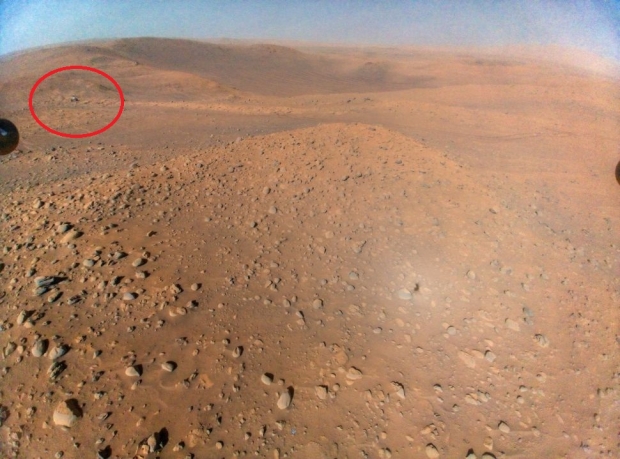 This speed discrepancy between what's required on Earth versus Mars can be attributed to the Red Planet's atmosphere or lack of it. Mars' atmosphere is 1% as thick as Earth's, which means to achieve flight, vehicles must compensate for the thin atmosphere with specially designed rotors that are able to rotate incredibly fast.
After Ingenuity completed its primary mission, earning it the title of the first vehicle to become airborne on another planet, the small helicopter was turned into Perseverance's forward scout and provides valuable reconnaissance information to NASA engineers. Ingenuity's data allows NASA engineers to plan a safe and strategic path for Perseverance, increasing the efficiency, safety, and execution of scientific operations conducted by the rover.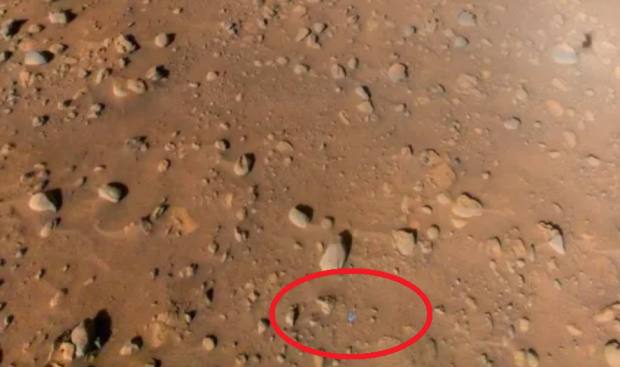 As for the mysterious shiny object, NASA JPL writes that the triangular object seen in the above photograph is a piece of debris that can be traced back to Perseverance and Ingenuity's descent onto the Red Planet in February 2021.
On April 16, 2023, Ingenuity came within just 75 feet of Perseverance, marking the closest meeting the two Red Planet explorers have had in nearly two years. During this time frame, Perseverance pointed its Mastcam-Z and Ingenuity and captured a close-up photograph of the helicopter, showing its rotors covered in a thin layer of Martian dust that likely built up between flights. If you are interested in reading more about Ingenuity or Perseverance, check out the below link.