Netflix is about to stop the thing that defined it as a company back in the early part of the 2000s - that is, sending out DVDs via the mail to its customers. Before it became the streaming giant that forever changed the media landscape, Netflix was all about offering customers a quick and easy way to get their hands-on the latest movies and DVD box sets of TV shows.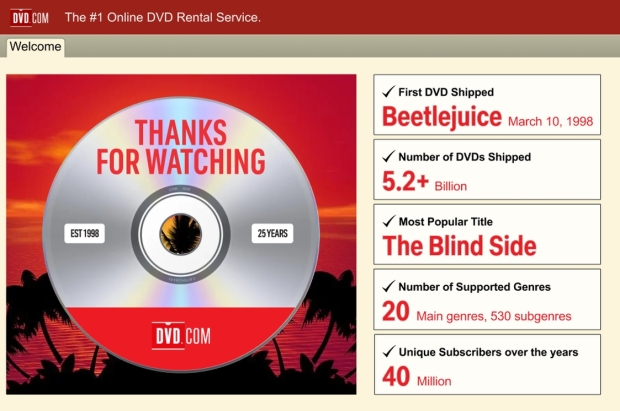 Netflix has confirmed that September 29, 2023, will be the last day it sends out one of its red envelopes with a DVD inside. "It has been a true pleasure and honor to deliver movie nights to our wonderful members for 25 years," writes Netflix's DVD division in a Tweet. "Thank you for being part of this incredible journey, including this final season of red envelopes."
Netflix notes that since the company started as a DVD mail-order service 25 years ago, it has delivered over 5.2 billion DVDs in red envelopes to its customers - which is a pretty remarkable statistic. Netflix started its streaming service in 2007 when it slowly but surely took over in a big way.
You wouldn't be alone if you were surprised that Netflix still had its whole DVD division as revenue for the DVD rental service dropping by upwards of USD 100 million in 2022 alone.
Still, with it shuttering in a few short months, perhaps now's the time to party like it's 1999 with a DVD copy of The Matrix or Star Wars Episode I: The Phantom Menace from Netflix. Okay, maybe just skip to the Pod Race scene in the latter.
Netflix CEO Ted Sarandos has also chimed in, penning a heartfelt farewell to the DVD that you can read here, where he writes.
"Those iconic red envelopes changed the way people watched shows and movies at home - and they paved the way for the shift to streaming. From the beginning, our members loved the choice and control that direct-to-consumer entertainment offered: the wide variety of the titles and the ability to binge watch entire series. DVDs also led to our first foray into original programming - with Red Envelope Entertainment titles including Sherrybaby and Zach Galifianakis Live at the Purple Onion.

We feel so privileged to have been able to share movie nights with our DVD members for so long, so proud of what our employees achieved, and excited to continue pleasing entertainment fans for many more decades to come."