College students from Carnegie Mellon University (CMU), a private research university in Pittsburgh, Pennsylvania, will be sending the first US autonomous rover to the Moon.
The small rover called Iris was developed over three years by college students, faculty, and former students from the university. Over the course of NASA's 65 years of lunar exploration, the space agency has yet to land an autonomous rover on the surface of the Moon, but in May, as part of NASA's Commercial Lunar Payload Services (CLPS) program, the 4.4-pound rover with wheels the size of bottle caps will begin its 60-hour-long mission exploring the surface of Moon.
What scientific operations will Iris be conducting on the Moon's surface? According to reports, Iris' mission involves taking a plethora of images of the lunar surface, mostly with the intention of capturing as much geological information as possible throughout its mission. Additionally, the small autonomous rover will be testing out new techniques for relaying its important data and photographs back to Earth. The small rover will launch on the United Launch Alliance's (ULA) Vulcan Centaur rocket on May 4 alongside multiple lunar projects.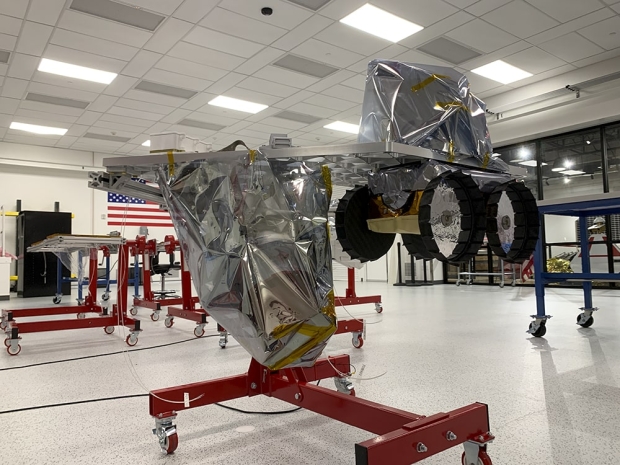 One of those projects is called MoonArk, which is a small capsule approximately the size of a pint glass that's filled with poems, music, pictures, and other objects that express humanity. Essentially, college students have designed a Moon-bound time capsule that is meant to capture what humans have achieved through the arts, humanities, sciences, and technologies. CMU writes on its website that it has created special objects that are designed to withstand the harsh climate of the Moon for thousands of years and that the lunar time capsule has eight chambers and contains thousands of images, nano-objects, mechanisms, and more.
Iris and MoonArk will join fourteen other payloads on the Peregrine lunar lander that will hitch a month-long ride to the Moon on the ULA rocket. Once Peregrine has landed on the lunar surface, it will deploy both Iris and MoonArk.
While Iris may seem small, it's hardly insignificant as it ticks many "first" boxes with its milestone trip to the Moon. Iris will mark the first American lunar rover, the first student-developed rover, the smallest and lightest rover, and the first rover created with both carbon fiber chassis and wheels. Additionally, NASA engineers will step aside and allow students to control and monitor Iris from Carnegie Mellon Mission Control, which is located on the university's Pittsburgh campus.