Over at Videocardz.com, a leaked slide, presumably from a presentation for the new GeForce RTX 4070 GPU, confirms several things about the GPU. One of the most interesting bits of info comes under the 'Average Gaming Power' header that lists 186W as the power draw for the GeForce RTX 4070.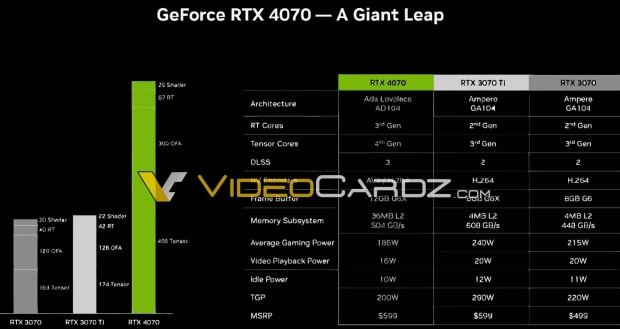 We can only assume this number comes from a specific set of games running at one or multiple resolutions. Still, it points to the latest GPU in the Ada Lovelace-powered GeForce RTX 40 Series being incredibly power efficient.
Although there's no performance data with this info, the slide features comparisons between the GeForce RTX 4070 and the RTX 3070 Ti and RTX 3070. And with that, the RTX 4070 is presumably a higher-performing GPU alongside being more efficient. For comparison, the 'Average Gaming Power' for the RTX 3070 Ti is 240W, and for the RTX 3070, it's 215W.
Other bits of info confirmed in the slide is that the RTX 4070 will feature 12GB of GDDR6X memory and 36MB of L2 Cache. This cache figure is considerably higher than the 4MB found in the RTX 3070 Ti and RTX 3070, though memory bandwidth is lowered when compared to the RTX 3070 Ti (504 GB/s vs. 608 GB/s).
The slide also confirms the recently leaked price, USD 599, which is lower than what has been speculated though still higher than the USD 499 for the GeForce RTX 3070 when that launched. On that note, the price is in line with the GeForce RTX 3070 Ti, so another assumption from this slide is that the GeForce RTX 4070 is positioned as a more efficient and powerful option than that popular Ampere generation GPU.
The GeForce RTX 4070 will leverage the new Ada technology, with more Tensor Cores, RT Cores, and Shaders than the previous generation. Adding OFA (Optical Frame Accelerators) also means full support for DLSS 3 and Frame Generation - which can be found in several titles like Cyberpunk 2077, Forza Horizon 5, and Microsoft Flight Simulator.