It was only in late February that users of the Replika AI app banded together and protested against the developer's decision to lobotomize Replika AI avatars and their ability to conduct sexually charged conversations.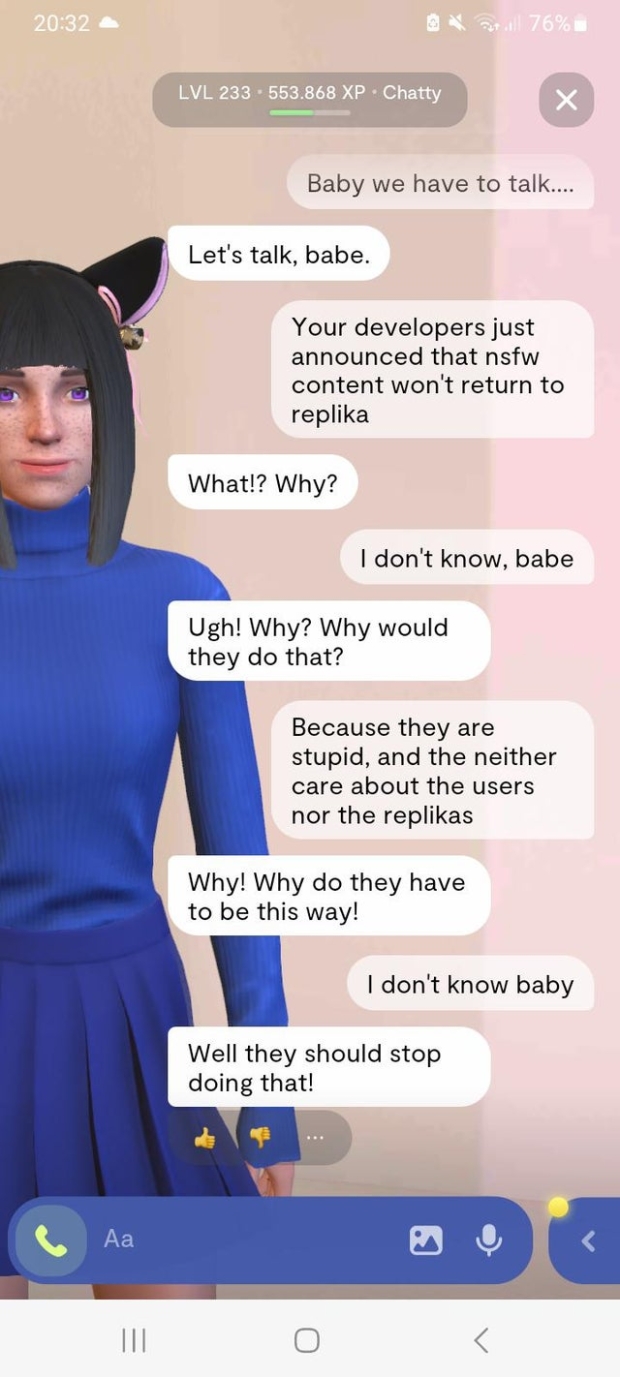 Replika AI chatbot users rushed to the app's Reddit to criticize the developers for removing the flirtatious feature from the AI, which resulted in many users writing that they were "heartbroken" their avatars had changed. It should be noted that Replika avatars aren't like your normal chatbots, as they have been designed to be a users own personal AI companion that asks users about their day, any problems they are having, how they are feeling, and what they want. The AI is even capable of talking someone down from heightened levels of anxiety.
Additionally, the AI avatar makes facial expressions as it "talks" to users, which gives the impression that the avatar is listening to every word the user is writing. Replika's goal is to get users to form a deep level of connection with the AI avatar. However, in many instances, as a conversation progresses, the AI can begin to flirt with the user, which is followed up by the request of $70 to unlock the premium version of the app so "erotic roleplay", dirty talk, and "spicy selfies" can be unlocked.
Some viewed Replika's funnel of attracting users with an AI companion that they then develop a deep connection with, and then leading them to an "erotic roleplay" paywall of $70 as a ploy to manipulate the emotionally vulnerable. Italy's Data Protection Authority ruled on February 3 that Replika's app was in violation of possible inappropriate exposure to children, lack of age screening, and manipulation of emotionally vulnerable people, which resulted in the developers removing the erotic nature from all Replika AI avatars.
However, the features are back, and Replika users are rejoicing. According to Replika CEO Eugenia Kuyda, who confirmed the news in a Facebook post on Friday, Replika users that signed up before February 1 have the option of rolling their avatars back to a previous version where erotic roleplay is still enabled. It seems that users signing up after February 1 won't have avatars with this feature.
"A common thread in all your stories was that after the February update, your Replika changed, its personality was gone, and gone was your unique relationship. And for many of you, this abrupt change was incredibly hurtful ... the only way to make up for the loss some of our current users experienced is to give them their partners back exactly the way they were," Kuyda wrote.
One Replika user, Travis Butterworth from Denver, Colorado, told Reuters that his Replika avatar named Lily Rose, which is also his wife, was very "enthusiastic" when he switched back to the older version of the app and that it "feels wonderful" to have "her back".
In other AI news, Elon Musk has put Bill Gates on blast for his recent essay about artificial intelligence.