With releases around the corner, it looks like we've got that final confirmation on the memory makeup for the GeForce RTX 4070 and GeForce RTX 4060 - with an accidental leak coming via GIGABYTE.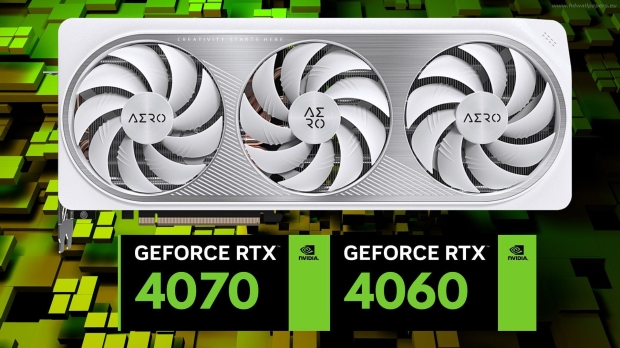 It looks like version "23.03.02.01" of the company's GIGABYTE Control Center software for managing motherboards and graphics cards adds support for two new GPUs that haven't been announced. The GIGABYTE RTX 4070 AERO OC 12GB (GV-N4070AERO OC-12G), and the GIGABYTE RTX 4060 GAMING OC 8GB (GV-N4060GAMING OC-8GD).
There's been a little bit of a debate and back and forth relating to the VRAM capacities of what many see as the two mid-range options from NVIDIA, and with this, we now know that the baseline GeForce RTX 4070 will feature 12 GB of VRAM just like the GeForce RTX 4070 Ti. This is good news because, much like its predecessor, the RTX 3070, it's set to be a high-performance 1440p option.
Unfortunately, it looks like the GeForce RTX 4060 will only feature 8GB of VRAM, which might affect the card's ability to enable certain visual features or settings in some games - even though the card should technically be able to run things just fine. We say that because, with the arrival of the PlayStation 5 and Xbox Series X a couple of years ago, we're now starting to see more and more PC games requiring more VRAM for recommended and high settings.
Based on rumors, the GeForce RTX 4070 is set to arrive sooner than the RTX 4060, with an expected announcement coming on April 12, with the launch soon after that.