3DMark Time Spy is one of the go-to benchmarks for testing out a new GPU, a simple DirectX 12 test to see just how much extra performance you can get when making the jump to something like AMD's flagship Radeon RX 7900 XTX graphics card.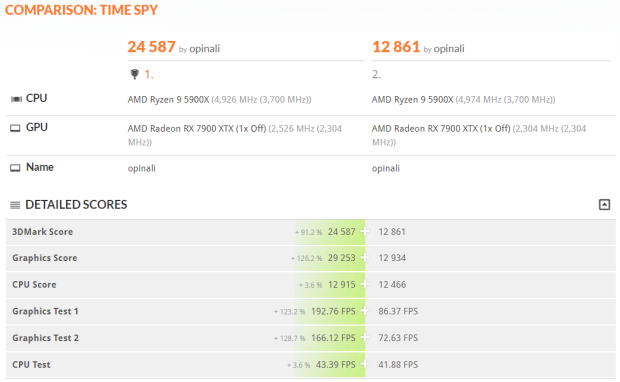 Well, it looks like the latest Radeon drivers are causing a pretty massive drop in performance for some rocking a new 7900 XTX. A Time Spy result of 12,861 versus 24,587 was reported in one case (seen above, via Osvaldo Doederlein) - with the only difference being the latest Radeon driver from AMD.
The good news is that the bug seems to be rare, with UL Benchmarks noting that only 3% of users seem to be affected. The 3DMark developer was unable to reproduce the issue internally, but AMD had better luck in its investigation.
"We have not been able to reproduce this in our test lab at this time," the developers responded on Steam, where users began reporting the bug. "We're still trying, but nothing so far. So we know at this time that this is not a general issue that affects everyone with 7900XT/XTX. If this were such an issue, it would have also come up during driver approval testing but that process saw nothing odd with the latest drivers when they were tested."
The difference in the results is extreme, and with access to results using the new Radeon drivers it concluded that roughly 3% of users are affected. The fix? Rollback to an older driver until the issue is resolved in the drivers.
"AMD has apparently reproduced this internally and it is starting to look more and more like a driver issue," UL's representative added. "So at this time I can only offer "rollback to previous or ignore and wait for future driver fixes"."
Driver issues for both AMD and NVIDIA have been cropping up of late, with a rare Windows OS bug on AMD's side and excessive CPU usage after exiting games on the NVIDIA side. Here's hoping the next major driver updates from both camps are a little more stable.