Here's an odd one fresh from the rumor mill: GIGABYTE might be working on a new graphics card, except it'll be using last-gen technology, namely RDNA 2 instead of cutting-edge RDNA 3.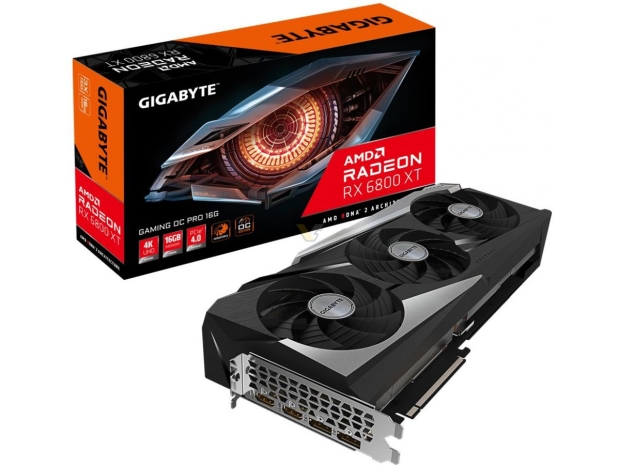 The theory advanced by VideoCardz, based on photos of this purportedly incoming model, is that GIGABYTE has an RX 6800 XT in the pipeline, one which is super-sized (and guzzles more power for that matter).
The Radeon RX 6800 XT Gaming OC PRO model is supposedly the best part of 5cm longer than the standard 6800 XT, and VideoCardz observes that it uses the same cooler as the RX 6950 XT Gaming model.
On top of that, it has three 8-pin power connectors (rather than two), and an enhanced voltage regulating module (VRM). So therefore, the strong suggestion is that this will be a higher-clocked and beefier 6800 XT, a graphics card that might have considerable potential for further overclocking, too, given the mentioned component choices.
While the photos VideoCardz has obtained look genuine enough, as ever with leaks like this, we must treat the idea of this launch with skepticism. At first glance, it seems odd that GIGABYTE would come out with a 6800 XT after the previous release of such a last-gen model was over a year ago.
Then again, this could be a reflection of several factors - namely that board makers still have components to use for Navi 21 cards, and with no sign of mid-range RDNA 3 GPUs yet, there is a gap in the market. Right now, for RDNA 3, all we have on the shelves is a bunch of seriously pricey high-end RX 7900 XTX and XT models.
Another question is whether gamers will be keen to fork out what'll doubtless be a fair chunk of cash on last-gen technology - even if this is a seriously pepped-up version of the 6800 XT. Particularly when we consider that the mid-range RDNA 3 offerings are surely not all that far off (or at least we hope they aren't anyway).
The last we heard, the RX 7800, RX 7700 and RX 7600 GPUs are expected to pitch up in the middle of the year, likely starting from June. So any last-gen stopgap like the rumored GIGABYTE card here might only have a shelf life of a couple of months (assuming this 6800 XT turns up next month).
That said, the rumor mill could be wrong about when mid-range RDNA 3 graphics cards might pitch up, or AMD's intended launch timeframe could slide. Fingers crossed that doesn't happen, naturally.