An official from Valve has revealed details about the company's upcoming next-gen Steam Deck, which is expected to come with a "significant bump in horsepower."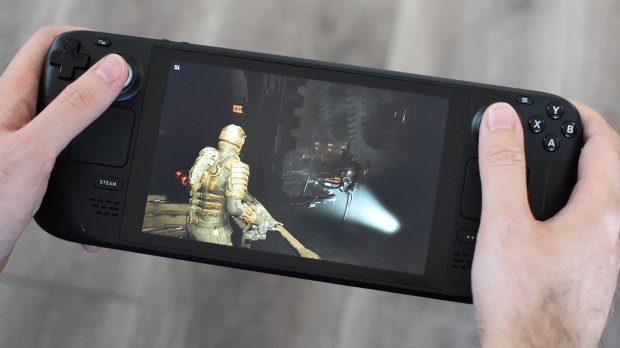 The details come from Valve designer Lawrence Yang that spoke to Rock Paper Shotgun recently, where he answered several questions about the current shelf life of the Steam Deck and the possibility of a new portable device coming out in the near future. Yang explains that Valve will be waiting "a few years" before releasing an upgraded version of the current Steam Deck as the company believes that the Steam Deck still has the potential to be a solid target for consumers within this generation of consoles.
It should be noted that while the Steam Deck is showing some age in select newly released titles, the portable console still has more than 8,000 titles supported, with many of those being rated 'Playable' or stamped 'Verified' by Valve's official Compatibility program.
Furthermore, the list of available titles on the Steam Deck is nothing to dismiss as it contains AAA titles such as Cyberpunk 2077, Elden Ring, Detroit: Become Human and more. Support for the aforementioned titles is one of the key reasons Valve isn't going to rush out a new Steam Deck. The company believes the current console still has some life left in it. However, there are some games that the Steam Deck is struggling to run. According to reports, titles such as Wild Hearts and Returnal are examples of the Steam Deck beginning to show its age.
According to Valve engineer Pierre-Loup Griffais, that also spoke to Rock Paper Shotgun, developers that are creating titles that scale down from high-end PCs all the way down to hardware powering the Steam Deck will "enable smoother performance on a wider variety of PCs, and improve the experience for the whole playerbase."
In other news, a team of officials were forced to issue self-destruct commands to a new rocket that was launched on Monday. The self-destruct commands were sent shortly after Japan's new H3 lifted off from its launch bad. According to officials, JAXA officials didn't have any other option but to issue the destruct commands as it wasn't possible for the mission to achieve success.
The H3 rocket measures between 187 - 207 feet tall, depending on the equipped payload fairing and is designed to carry 4 tons to an altitude of 310 miles in a sun-synchronous orbit, or "6.5 tons or more" to a geostationary transfer orbit. If you are interested in reading more about this story, check out the link below.