Recently Cooler Master debuted its new top-of-the-line case fan, the Mobius 120 OC. With silent performance and an impressive build, there was one area where some might have felt that it was lacking. And that's in RGB lighting, as the Mobius 120 OC has no bright rainbow-colored action.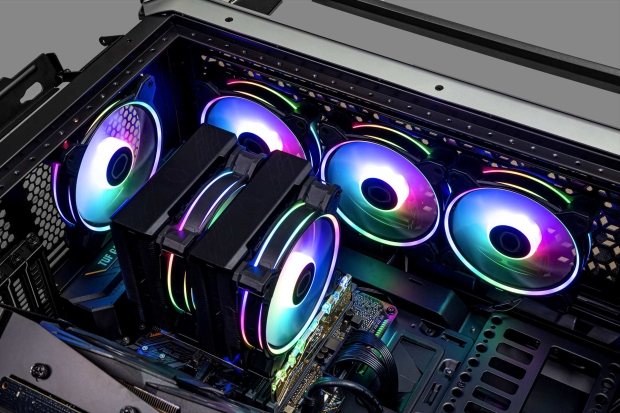 But don't worry; Cooler Master has got you covered thanks to the debut of the next-gen versions of its popular MasterFan 120 Halo series, with the Halo 2 available in 120 and 140mm sizes. Cooler Master has redesigned the Dual Loop LED fans by increasing the fan size by 10% for better airflow and cooling performance. Which Cooler Master lists as a 58% increase in air pressure.
The frame has also been reworked to improve stability without increasing the fan's overall real estate. The upgraded driver IC is also said to boost cooling performance and minimize overall noise, with a max dBA noise level of 27.
And in terms of customizable ARGB lighting, Cooler Master also states that it's more "vibrant" than the previous version, which we assume means they'll come with higher brightness options. Available in four versions: MF120 Halo 2, MF120 Halo 2 White Edition, MF140 Halo 2, and MF140 Halo 2 White Edition. Outside of the size, the main difference is in speed, with the 120mm variants rated at around 2050 RPM and the 140mm variants 1600 RPM.
As per the image supplied by Cooler Master of multiple Halo 2 fans in a PC, the result is RGB heaven - if that's your thing. The official product pages for the new fans can be found below, and you should expect to find these available at retailers in the coming days.