Japan's counterpart to NASA, the Japan Aerospace Exploration Agency (JAXA), launched its new H3 rocket on Monday, and it could have gone better.
The new H3 rocket was stationed on the launch pad at Tanegashima Space Center before it began lifting off on Monday, March 6, at 8:37 p.m. EST. Only 5 minutes and 27 seconds into the rocket's flight, officials were heard over the livestream of the launch informing viewers and listeners that commands had been sent to the rocket to instruct it to separate its stage and ignite its second stage. Unfortunately, 7 minutes into the rocket's flight, officials are heard confirming the second stage failed ignition and that the rocket's velocity was steadily declining.
Since the launch of the rocket failed, and the separation/ignition commands were carried out, the rocket began to freefall back down to the surface of Earth. This prompted JAXA officials to announce that they'd sent a "destruct command" to the rocket as there was no hope of achieving mission success. Notably, this isn't the first time Japan's H3 rocket has attempted a launch. On February 13, officials had to abort the launch after an issue with the rocket's electrical system that supplies power to the rocket's LE-9 engines presented itself.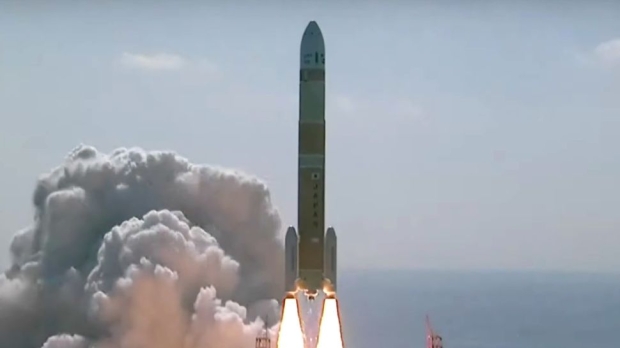 Japan's H3 rocket was carrying a payload when it was instructed to destruct, according to reports, the rocket was carrying the Advanced Land Observing Satellite-3 (ALOS-3), that's destination was a sun-synchronous orbit of 416 miles above the surface of Earth. This satellite was designed to send high-resolution images of Japan and other regions around the world. These images are very large, stretching 43 miles wide and with an insane resolution of 2.6 feet.
For those wondering how big the H3 rocket is, or was, reports indicate that H3 measures 187 feet tall, or 207 feet tall, depending on the equipped payload fairings. The rocket is designed to carry 4 tons to an altitude of 310 miles in a sun-synchronous orbit, or "6.5 tons or more" to a geostationary transfer orbit.
In other space-related news, NASA has released a set of images of the most volcanic moon in our solar system. The space agency's Juno mission includes a space probe that recently made a close approach with Jupiter's third-largest moon Io. The relatively small probe captured two images of the moon, giving researchers the best view yet of the mysterious Galilean moon. If you are interested in reading more about the solar system or would just like to learn more about Jupiter and its moon Io, check out the below link for more information.