A new in-depth report via CNBC (which you can watch in full via the video below) offers a deep dive into NVIDIA, with CEO and founder Jensen Huang discussing the company's history and recent shift into AI. It's a cool look at the rise of discrete graphics cards and serves as a nice little history lesson on NVIDIA - from the release of the first GPU to advances like CUDA.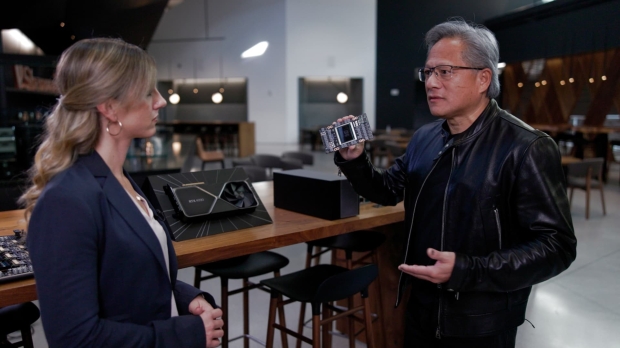 It also touches on the company's brief dip into mobile hardware (that said, Tegra hardware still powers the Nintendo Switch) and its recent failed attempt to acquire Arm. Plus, cloud gaming, the current crypto mining boom, and NVIDIA's recent steep gaming revenue decline. The focus of the deep dive into NVIDIA is the company's success in AI - where it has gone all in on the technology. And with that, the rise of AI models like ChatGPT, where tens of thousands of NVIDIA GPUs power AI technology.
On the gaming side, if you go back to the release of the GeForce RTX 2080 in 2018, you'll no doubt find many takes at the time wondering if the addition of dedicated AI hardware versus simply beefing up GPU specs even further was the right move. The shift had been on the cards for far longer than that.
"We had the good wisdom to put the whole company behind it [AI]," Jensen Huang tells CNBC. "We saw early on, about a decade or so ago, that this way of doing software could change everything. And we changed the company from the bottom all the way to the top and sideways. Every chip that we made was focused on Artificial Intelligence."
The report also focuses on NVIDIA's relationship with TSMC, the semiconductor maker's importance to the industry, and the geopolitical issues between the US and China. "The fact of the matter is TSMC is a really important company," Jensen Huang says. "And the world doesn't have more than one of them, and it is imperative upon ourselves and for them to invest in diversity and redundancy."
And with TSMC expanding its semiconductor development into Arizona, Jensen Huang confirms that NVIDIA will "absolutely" use the new foundries being built in the United States.