NVIDIA recently launched the RTX Video Super Resolution update as part of its latest GeForce Game Ready driver update. In Chrome and Edge, GeForce RTX 30 and 40 Series users could enable the AI-powered upscaling tool to improve video quality when streaming at a lower resolution.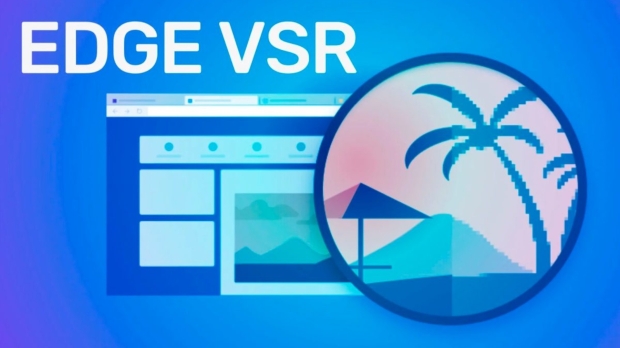 Today comes news that Microsoft is adding its version of VSR (Video Super Resolution) to its Edge browser, with support for all NVIDIA GeForce RTX model GPUs (GeForce RTX 20, 30, and 40 Series with Tensor Cores) in addition to AMD Radeon RX graphics covering Radeon RX 5700 up to Radeon RX 7800. Though we assume that's a typo, it's supposed to be Radeon RX 7900.
Like RTX VSR, Microsoft's VSR is said to remove or improve compression artifacts and enhance text though it only works if the video's resolution is lower than 720p. If you're wondering why it's limited to low-res videos, Microsoft notes that one of three videos is played at 480p or lower in Edge browsers. AI also powers Microsoft's VSR with machine learning to enhance any video watched in the browser.
Well, not any, as Microsoft's VSR is limited to content not protected by DRM, so it probably isn't compatible with Netflix or other premium streaming services. The update is available for 50% of Microsoft Edge Insiders with the following requirements.
Due to the computation power required to cleanup and upscale videos, video super resolution (VSR) is currently offered only when the following conditions are met:

The device has one of the following GPUs:

NVIDIA RTX 20/30/40 series OR AMD RX5700-RX7800 series GPUs.

The video is played at less than 720p resolution.

The device is connected to AC power.

Both the height and width of the video are greater than 192 pixels.

The video is not protected with Digital Rights Management technologies like PlayReady or Widevine. Frames from these protected videos are not accessible to the browser for processing.

We are working on automatic Hybrid GPU support for laptops with multiple GPUs. Meanwhile, you can try VSR by changing Windows settings to force Edge to run on your discrete GPU.

When the feature is enabled, you will see an HD icon in the address bar. Clicking the icon will allow you to enable or disable the feature.

If you would like the try the feature out manually, you can enable the feature in edge://flags/#edge-video-super-resolution
Interestingly, like NVIDIA's RTX Video Super Resolution, if you plan on using it on a laptop, it will need to be connected to AC power, hinting that the technology will take a noticeable amount of system resources to run.