ASUS is readying HDMI sound cards
Perfect timing guys!

Published Thu, Feb 28 2008 11:19 PM CST
|
Updated Tue, Nov 3 2020 12:38 PM CST
Theo from TG Daily managed to
visit
the ASUS office in Fremont, California to check out the company's upcoming sound card products.
During his visit he learnt about ASUS' upcoming plans while paying close attention to the Taiwanese company plans to shake up the sound card market well and truly. ASUS is readying two HDMI sound cards, the Xonar DX and Xonar AV1.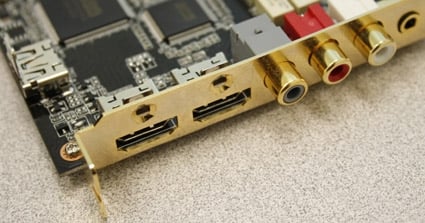 The DX is a cut down version of the existing Xonar D2X sound card with the EMI shielding removed as apparently it doesn't make much of a difference being there or not. It creates a smaller profile which is better since they are designed especially for HTPC and ASUS will be offering half-height and full-height brackets, which is a smart move.
Next on the list is the AV1 which is a work in progress and this one will really shake up the market big time. It not only included HDMI output but also HDMI input for a super advanced video capturing. It even includes a Splendid HD chip for hardware video processing.
These sound cards arrive at no better time as a HD format has been chosen and many folks will be looking to finally buy a Blu-ray ROM and finally setup their HTPC's properly. ASUS, how about you release them already?
We want DTS-HD MA and TrueHD on our computers like yesterday, don't you know that? I hope you are looking at this too, CyberLink!