NVIDIA's gaming revenue for Q2 FY23 is down 46% year-on-year, but its USD 1,831 million in this sector is up 16% over the previous quarter. Despite the downturn, advances in AI acceleration and data center sales have seen the company's stock surge over the past week.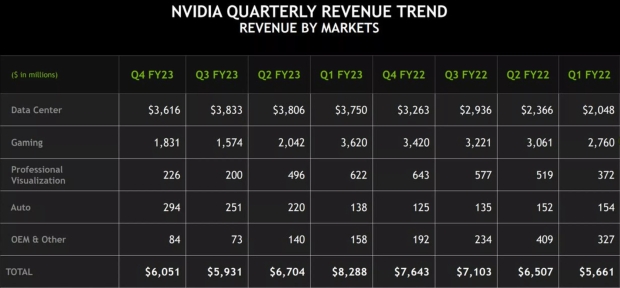 Still, the more interesting thing we've learned is that when it comes to overall gaming revenue, NVIDIA and AMD are close - with NVIDIA's USD 1,831 million in gaming revenue being only 10% more than AMD's USD 1,644.
It's no secret that NVIDIA's GeForce hardware dominates the PC gaming market in terms of overall market share. The most recent Steam Hardware Survey results back this up, showcasing that pretty much all the top discrete GPU options come from Team Green (over 75%), and it's a list that even includes the recently released GeForce RTX 4090 and other high-end GPUs from the company.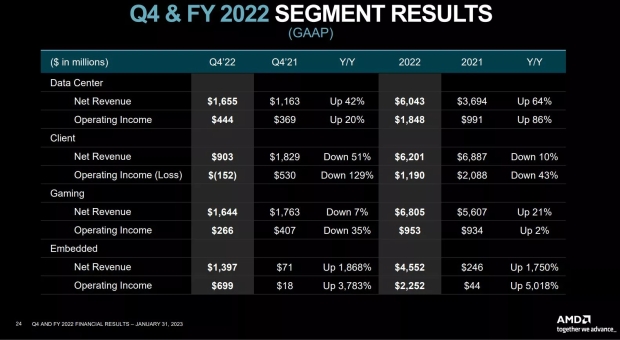 But cards like the GeForce RTX 1060, 2060, and 3060 prove to be the most popular. With both NVIDIA and AMD in the process of launching more mid-range GPUs in 2023, it'll be interesting to see how this - if it all - changes.
Anyway, gaming revenue between the two companies is close because AMD supplies the processor and graphics hardware for PlayStation, Xbox, and even the Steam Deck. PS5 sales are steadily increasing, which is good news for AMD. Its figures also include previous-gen hardware like the PS4 and Xbox One, where margins are small, which explains the reason for the seemingly low operating income.
On the NVIDIA front, its gaming revenue, although mostly related to desktop and mobile/laptop GPU sales, also includes the hardware for the Nintendo Switch and its cloud-based GeForce NOW service. NVIDIA hasn't offered a similar income breakdown though it's safe to assume its discrete GPU margins are higher than AMD's console business.