An original iPhone, which remained boxed and sealed in mint condition, has sold for a record-breaking amount, with someone paying $63,000 at auction for the first-gen Apple smartphone.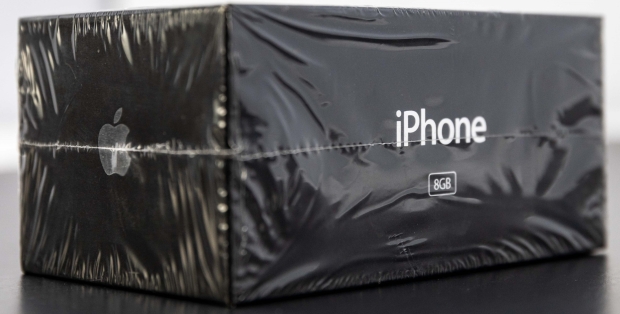 Remember that the iPhone came out in 2007 with a retail price of $599 in the US, so the final auction selling price of $63,356 is over 100 times the original asking price, a pretty mind-boggling figure.
The smartphone was sold by LCG Auctions, and the seller was a tattoo artist who was given the iPhone as a gift, but never opened it.
The seller was holding onto the iPhone and told Business Insider that she'd have waited longer, but wanted the money to support her freshly-started business - after she witnessed another iPhone bagging almost $40,000.
This auction, however, ended up fetching over 50% more than that figure, which is impressive. The auctioneers estimated it would reach $50,000 or more, and indeed, it managed a fair chunk over that expectation in the end.
As a collector's item, having the phone not just boxed but still in the plastic wrapping clearly lends it a lot of weight in terms of desirability.
It's not uncommon to see rare pieces of Apple hardware sell for huge sums of money at auction. For example, Apple I computers (the original Macs, as it were) have been auctioned off for the best part of half a million dollars in the past (and in one case, a unique model went for over $800,000). The Apple I first sold for $666 (yes, really) when released in 1976.
And we've lost count of the number of times we've seen stupidly expensive diamond-studded iPhones clad in gold (or some other precious metal) with truly astronomical price tags. The most recent of which was an iPhone 14 Pro Max with a Rolex built into the back of the handset, believe it or not.