NVIDIA's RTX 4090 laptop GPU has been benchmarked in a Razer Blade 18 laptop, with it ending up a long way off the performance of the desktop version of this graphics card.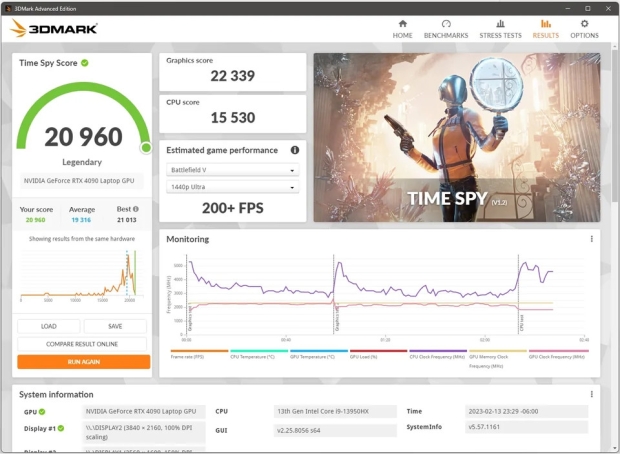 The mobile RTX 4090 achieved a TimeSpy score (3DMark) of 22,339 for graphics, as benchmarked by a Reddit user, which as VideoCardz (the site that noticed this via Wccftech) points out is 72% faster than the RTX 3080 Ti. The latter was the fastest laptop graphics card from NVIDIA's previous generation, Ampere (there was no RTX 3090 for mobile).
That graphics result for TimeSpy also outstrips the desktop RTX 3090 Ti, beating that card by close to 3%. In other words, it's close, but the laptop RTX 4090 just edges it.
We should note, though, that in this particular case, the owner of the Razer Blade 18 (which also packs a seriously quick Intel Core i9-13950HX processor) overclocked the graphics card using the MSI Afterburner utility (bumping the speed up by 250MHz). So the direct comparison to the RTX 3090 Ti isn't entirely fair (seeing as that card isn't ramped up).
Furthermore, if we compare this new mobile Lovelace flagship to the full-fat RTX 4090 on the desktop, the latter is 61% faster than the laptop GPU, even without juicing up the desktop GPU (the mobile 4090 is overclocked here, as mentioned).
Still, it's arguably unfair to compare a desktop to laptop GPU, because in a notebook, it's a whole different ball game in terms of the thermals you're working with inside a claustrophobic laptop chassis, and the dangers of overheating.
However, while you expect a laptop graphics card to be slower than its desktop counterpart, the gulf between the two different flavors of RTX 4090 here has undoubtedly been the cause of some disappointment. We were expecting a closer race, in short, but that said, the RTX 4090 laptop incarnation still represents a potent graphics card for a gaming (or creative) portable.