Chalk another one up on the board for TweakTown, as our very own Senior Hardware Editor has broken the PCMark 10 Extended Benchmark world record with an overall score of 18,101 - which, in case you're wondering, wasn't easy to pull off. It required some of the best hardware across CPU, GPU, RAM, and SSD storage - all tweaked and configured to perfection.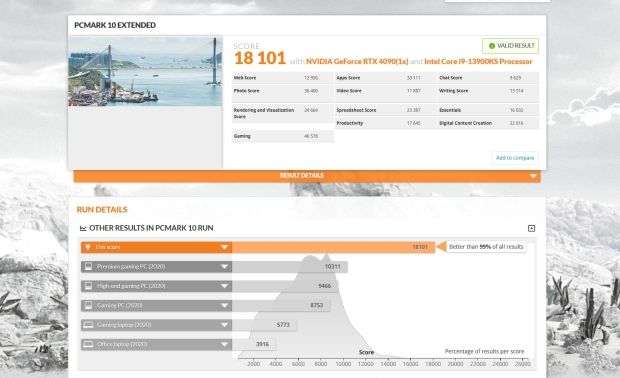 PCMark 10 isn't limited to GPU and gaming performance; it measures your entire PC. And with that, it's as much about the CPU, storage, and memory as the GeForce RTX 4090 found inside. On that front, Jon Coulter's World Record rig runs a Zotac-branded NVIDIA GeForce RTX 4090 with an average clock frequency of 2,703 MHz.
Where it gets exciting is the rest of the build; a water-cooled Intel Core i9-13900KS CPU with an average clock frequency of 6.3 GHz. A built-for-overclocking GIGABYTE Z790 AORUS TACHYON motherboard tweaked and configured to deliver performance. TeamGroup 7200 DDR5 memory at an eye-watering 8000 MT/s CL34.
Perhaps the secret ingredient here is the data center-grade Intel Optane SSD P5800X, with Sequential Read/Write speeds of up to 7.4GB/sec and what Intel calls "Near-nanosecond latency." Which we assume is Intel speak for "there ain't no latency here, bro."
Put all that together, and you've got a record-breaking beast of a PC. And with all that power, the benchmark results showcase that the CPU only reached an average temperature of 65C, with the GPU staying even cooler at 42C. The validated score and world record PCMark 10 Extended entry is also up on HWBOT, where it currently holds the world record, the global 8xCPU record, and the Core i9-13900KS record.
Time to crack open the champagne.