Chess has been popular for hundreds of years, long before the first home computer arrived. And if we look back to the early days of PC gaming, there have always been chess games. In the age of the smartphone and always-online social interaction, chess.com is proving to be one of the most popular gaming destinations on the planet.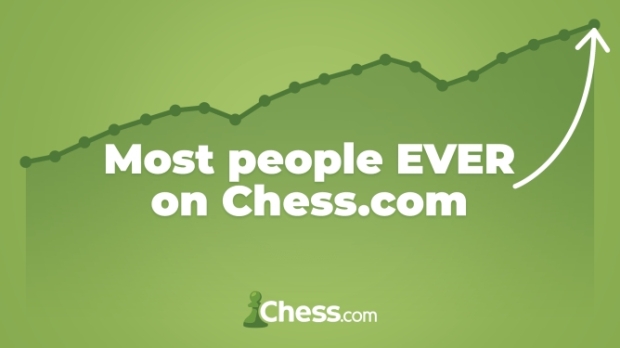 Thanks in part to lockdowns and shows like The Queen's Gambit on Netflix, and fun things like soccer stars Lionel Messi and Cristiano Ronaldo playing chess on social media, chess, and Chess.com is seeing a massive surge in interest and players. We're talking over one million games per hour and a record-breaking 31,700,000 games played on January 20 alone. These are incredible numbers, but it has also led to issues keeping servers up and running.
Traffic on Chess.com has nearly doubled since the beginning of December, and our servers are struggling, especially during peak hours, typically around noon to 4 p.m. ET. We are very sorry for the issues; we know it's super frustrating. We are all hands-on deck to address these challenges, but sadly there isn't (yet) a simple button we can press to resolve these issues.
The site has been investing a lot in hardware and improving its infrastructure, though its database can't write fast enough to handle the "250,000+ new accounts being created each day." It's important to note that chess.com has social features, a friends list, and even chat functionality, and it's also one of the most popular apps on iOS and Android devices.
As for a long-term solution, Chess.com outlines its plans.
To address the challenges our databases are experiencing, we are separating database tables, sharding databases, and putting services in memory. We are also working on cleaving off our most problematic database with users and gameplay. Each of these things takes time because there is SO MUCH DATA to move around. We are also working on more "graceful" failures so that if things do go sideways and everything is exhausted, we can recover more quickly and with less interruption. Everyone possible at Chess.com is focused on this, and we are also hiring as quickly as we can. Honestly, this sucks.