Despite recent negative trends, Square Enix reiterates plans to aggressively invest in blockchain gaming in the hopes of capturing the nascent Web 3.0 market.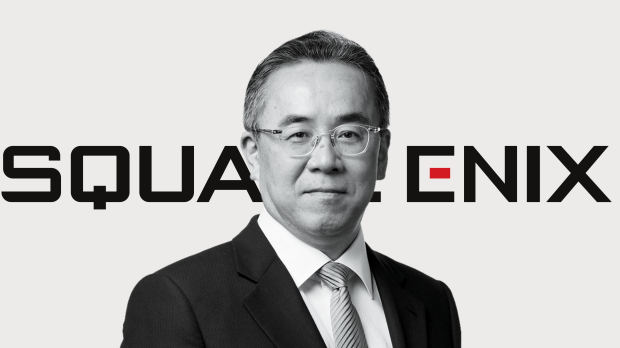 In the span of a year, NFTs, blockchain, and cryptocurrency went from a hot topic among video game publishers to practically falling off the planet entirely. There's a good reason for that: the market is extremely volatile and speculative. Crypto is embroiled in controversy, especially with the recent developments with FTX. Previous attempts to further the market have failed: Konami and Ubisoft both cashed in on the NFT trend to muted success, damaging their reputations among gamers in exchange for paltry sums of crypto.
Despite the obvious significant risks, Square Enix still wants in on this new market and the publisher is spending big on adapting its core franchises into blockchain games. In a recent New Year's Letter, Square Enix CEO Yosuke Matsuda makes optimistic comments about blockchain.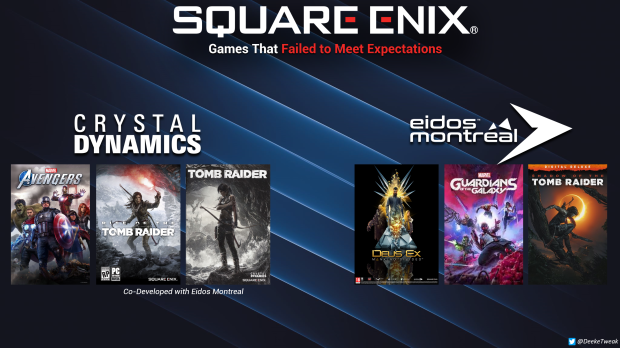 This is the same publisher that lost an estimated $200 million on its two Marvel games, Guardians of the Galaxy and Avengers, and continually announced that specific games like the newer Tomb Raider trilogy had "missed expectations."
This is also coming from the same company who sold off three game development studios (Crystal Dynamics, Eidos Montreal, and Square Enix Montreal) alongside a handful of successful franchises for $300 million. And the reason? So it could reduce risks and tighten its core focus on more successful games.
And finally, this is the same company that said it is willing to sell off parts of its video game development studios in order to achieve more income and reduce risk.
On the surface it seems extremely counter-intuitive that Square Enix would willingly chase such a volatile and significantly immature, unproven segment if it is trying to reduce risks.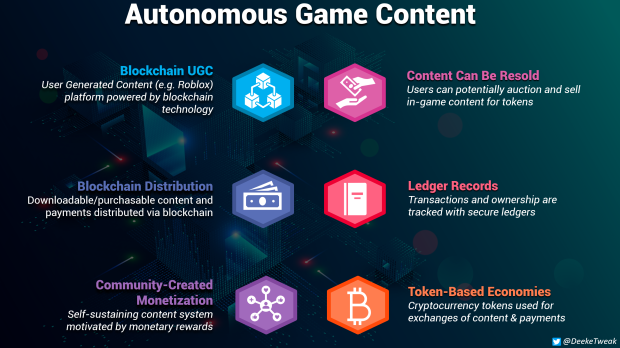 Read Also: Square Enix wants to make a create-to-earn blockchain platform
What is most perplexing about Square Enix's plan is just how vague everything is. There's no real meaningful discussions on how a decentralized blockchain environment will improve the gaming experience, nor how it would actually work. Everything is so theoretical and foggy with buzzwords thrown into the mix.
The bigger question is this: If what you are doing is working, why change the formula?
Square Enix is not in bad shape. Sure, things could be better if the yen weren't depreciating rapidly, however the publisher is not in dire straits insofar as profits and revenues. Yes, Square Enix is spending record levels on its game production accounts, but the "aggressive investment" in blockchain is apparently a portion of that.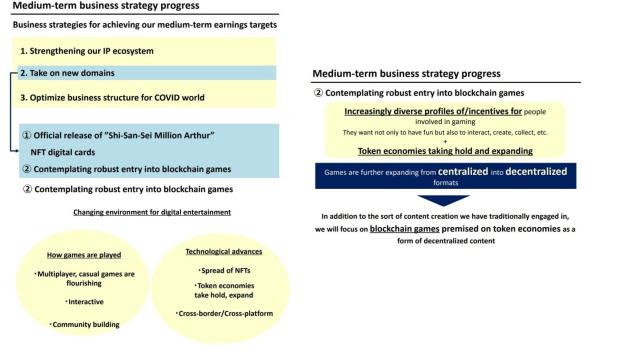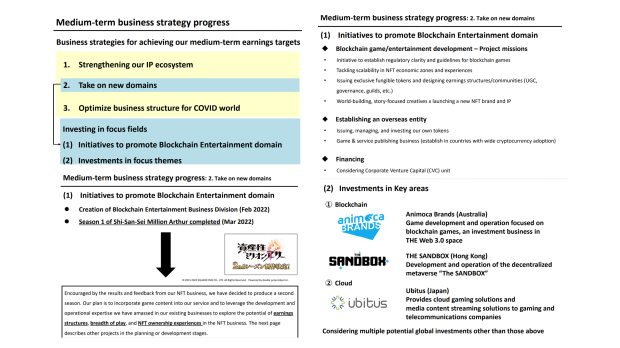 Even still, Matsuda is hopeful about blockchain, NFTs, crypto, and the nascent Web 3.0 wrapper that binds everything together:
We are most focused on blockchain entertainment, to which we have devoted aggressive investment and business development efforts.

Looking externally, I think it is fair to say that blockchain gained significant recognition as a field in 2022, as evidenced by "Web 3.0" becoming a firmly established buzzword among businesspeople. However, the year also saw volatility in the cryptocurrency and NFT (non-fungible token) markets that tracked the dramatic shifts in the macroeconomy described above. The latter half of the year in particular produced a somber string of news stories with blockchain connections, including the scandalous bankruptcy filing of FTX in November.

Following the excitement and exhilaration that surrounded NFTs and the metaverse in 2021, 2022 was a year of great volatility in the blockchain-related space. However, if this proves to have been a step in a process that leads to the creation of rules and a more transparent business environment, it will definitely have been for the good of the growth of blockchain entertainment.

Our Group has multiple blockchain games based on original IPs under development, some of which we announced last year, and we are undertaking preparations that will enable us to unveil even more titles this year.

We are also engaged in global sourcing from an investment perspective and will continue to take stakes in promising businesses whether we find them in Japan or abroad. Blockchain has been an object of exhilaration and a source of turmoil, but with that in the rearview mirror, we hope that blockchain games will transition to a new stage of growth in 2023.