NASA show the difference between Webb and Hubble in wild new photo
NASA has showcased the difference between the famous Hubble Space Telescope and the space agency's new high-tech James Webb Space Telescope.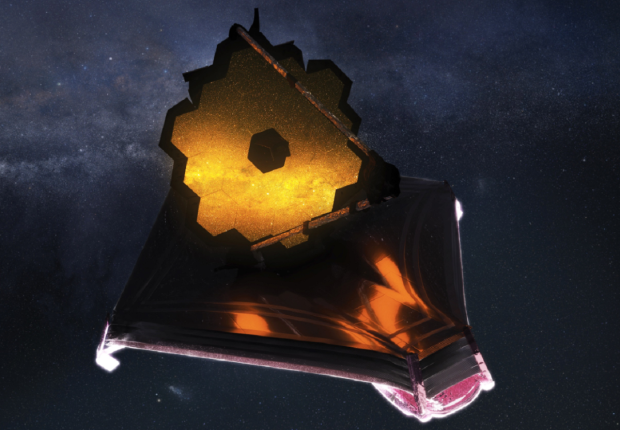 VIEW GALLERY - 3
Published Sep 7, 2022 7:34 AM CDT
|
Updated Thu, Sep 29 2022 6:52 PM CDT
1 minute & 53 seconds read time
NASA has demonstrated the difference between the famous Hubble Space Telescope and the impressive James Webb Space Telescope (JWST) that recently became operational.
Astronomers have pointed Webb's advanced instruments at a stellar nursery called the Tarantula Nebula that's located only 161,000 light-years away from Earth within the Large Magellanic Cloud galaxy. NASA writes on its blog found on its website that the Tarantula Nebula is home to the brightest star-forming region in the Local Group, which is the group of galaxies that are closest to our Milky Way. Additionally, the Tarantula Nebula is home to the hottest and largest stars observed so far.
Researchers have pointed three of Webb's advanced instruments at the stellar nursery and with Webb's Near-Infrared Camera (NIRCam) produced the below image, which depicts a tarantula's spider burrow lined with silk. The NIRCam image showcases a gap in the center, or as NASA writes, a "cavity", which is caused by a cluster of massive young stars that are producing high amounts of stellar wind and radiation that erodes the nebula. The stars NASA references on its blog shine a pale light blue in the below image.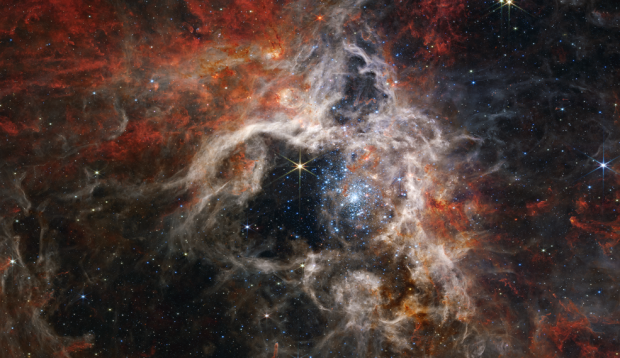 The Tarantula Nebula appears different when viewed through different wavelengths of light. An example of this is Webb's Mid-infrared Instrument (MIRI), capturing the below image. NASA explains that when viewed through longer wavelengths detected through MIRI, the hot young stars fade from the image, and cooler gas and dust begin to glow.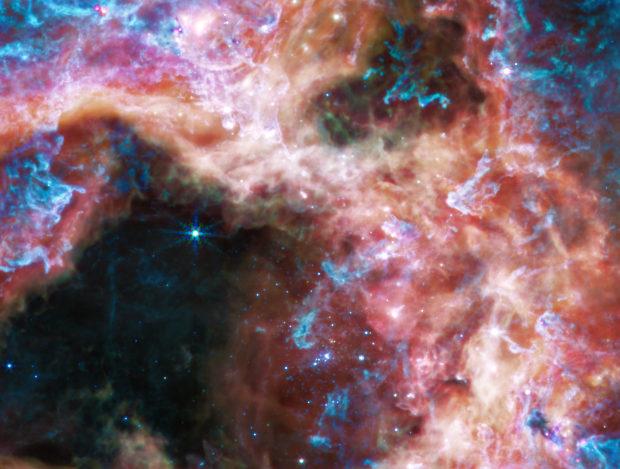 "Within the stellar nursery clouds, points of light indicate embedded protostars, still gaining mass. While shorter wavelengths of light are absorbed or scattered by dust grains in the nebula, and therefore never reach Webb to be detected, longer mid-infrared wavelengths penetrate that dust, ultimately revealing a previously unseen cosmic environment," writes NASA.
The space agency explains that the Tarantula Nebula is particularly interesting to astronomers as it contains a similar chemical composition as the large star-forming regions that were observed in the early years of the universe, or as officially called, the "cosmic noon". NASA writes that there aren't many star-forming regions in the Milky Way that are producing stars at the rate of the Tarantula Nebula, and for that reason, its the closest observable example of what the universe experienced when it was only just a few billion years old.
Observing stellar nurseries such as the Tarantula Nebula will allow researchers to learn more about the evolution of the universe, and develop a deeper understanding of the universe in its entirety.
Related Tags