New Robocop FPS game uses OG version of Fallout's VATS targeting
Teyon's new Robocop first-person shooter stays true to the original film with its Fallout VATS-like auto-targeting system.

Published Jul 11, 2022 9:54 AM CDT
|
Updated Tue, Aug 2 2022 4:02 AM CDT
The new Robocop Rogue City first-person shooter game will use the same grid targeting system that was seen in the 1980s hero classic.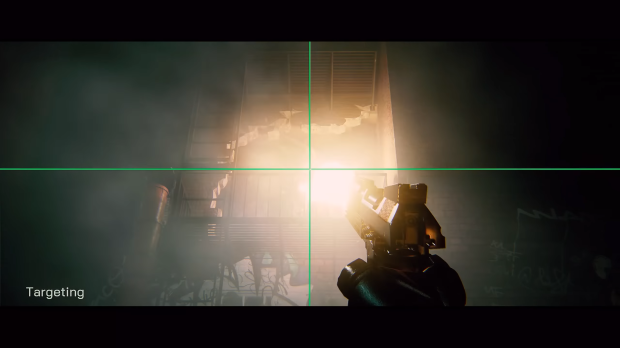 Teyon, the studio that made Terminator: Resistance, is making a new Robocop FPS game called Rogue City. The project will apparently stay quite true to the original film, complete with new performances from original Robocop actor Peter Weller and many throwbacks to the 80's satirical dystopian film.
The auto-targeting system as it appears in the original Robocop film.
Robocop's arsenal is an authentic recreation with the signature Auto-9 pistol and the original grid-based target lock aiming seen from the film. The game looks to use the exact same simple-yet-futuristic targeting system lifted directly out of the retro sci-fi classic, and will auto-lock onto enemies and specific targets in what appears to be a potentially scripted or QTE moment where you have to pull the trigger during the right time.
Not a whole lot is known about Robocop Rogue City outside of release timing, platform, and general details, but more info will likely sift out over the coming months.
Robocop Rogue City releases in June 2023 for PS5, Xbox Series X/S, PC, and Nintendo Switch. Check below for more details straight from Teyon:
Read Also: New Robocop first-person shooter is gritty homage to the 80s classic
"Become the iconic part man, part machine, all cop hero as you attempt to bring justice to the dangerous, crime-ridden streets of Old Detroit. Armed with your trusty Auto-9, factory-built strength, years of experience on the force and a variety of tools at your disposal, you will fight forces seeking to destroy the city you call home in an all new first-person, explosive hunt for the truth. You have the power to decide how to fulfil prime directives in your own way, but as the story unfolds proceed with caution because corruption and greed know no limits.

Welcome to Detroit; crime runs rampant, the city on the edge of ruin. As things descend further into chaos, you are the solution, a cyborg officer, RoboCop. And it wouldn't feel right without Peter Weller reprising this role. Become the RoboCop in June 2023! Coming to PlayStation 5, Xbox Series X|S and PC.

RoboCop is a classic sci-fi action-adventure and one of Hollywood's most iconic film franchises of all time. NACON and Teyon are working with MGM to develop an authentic RoboCop game experience that is faithful to the franchise's DNA, while immersing gamers in an original story that enables them to play as none other than RoboCop himself. In the RoboCop film, when good cop Alex Murphy is fatally wounded by ruthless criminals, innovative doctors are able to piece him back together as an unstoppable crime-fighting cyborg called "RoboCop."

You play as Alex Murphy, whose features will be familiar to fans of the cyborg because actor Peter Weller agreed to be the model for the game's protagonist. RoboCop: Rogue City will combine first-person shooter gameplay with exploration of Detroit and multiple-choice dialogue.

The triumphant return of RoboCop wouldn't feel right without the man who brought so much life into the role, and we're excited to reveal that Peter Weller will be performing voiceover work on the game. Enjoy this first look at gameplay and for the record, "dead or alive, you're coming with me!"
Related Tags