Zalman finally launches 3D displays
Calls them Trimon.
Published Nov 23, 2007 3:08 AM CST
|
Updated Wed, Jul 27 2022 3:53 AM CDT
1 minute & 32 seconds read time
At Computex earlier this year Zalman was showing its upcoming 3D displays and they've finally launched them. We're looking at a 19 and a 22-incher and we're not sure if Zalman has come up with Trimon name as a play on Trinitron or Pokemon. Either which way, these new 3D display requires you to wear a pair of glasses for them to work and you need to use an Nvidia graphics card.
You might wonder about the latter requirement and the answer is simple, Zalman relies on Nvidia's 3D stereoscopic driver, which is flaky at best. At least the glasses you get with the Zalman displays look more like a pair of naff shades than something really nerdy as early types of stereoscopic glasses with LCD shutters used to be like.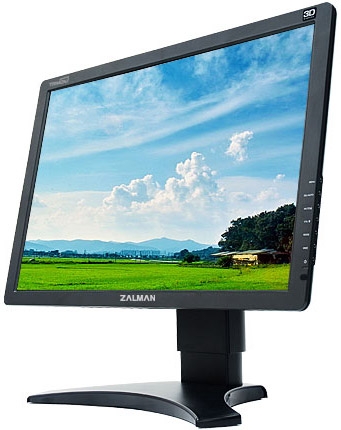 For some odd reason, Zalman has decided to go with a traditional square 19-inch display with a native resolution of 1,280x1,024 while the 22-inch model is widescreen and does 1,680x1,050. Both displays features a DVI and a D-sub connector and are supplied with all the cables needed plus the 3D glasses. Both models also features a pair of built in 2W speakers, but we can't see any gamer that'll really want to use them.
There are some real downsides to using these displays if you've got a multi-core system, as several games are limited to only using one core and you have to disable the rest, which is simply just pathetic. You can also only play games at full screen resolution, as otherwise the 3D effect doesn't work. You're also limited to using a GeForce 5, 6 or 7-series card, as the 8-series isn't supported and if you've got Windows Vista, well then you can forget about it all together, at least until next year when Nvidia is expected to release a new driver.
Apparently you can use any graphics card if you want to watch videos in 3D with these displays but it seems like a bit of a waste of money to us. Zalman has a list of supported games and if they work with multi-core CPU's or not as well as with what display and what resolution they work with and currently this list consists of less than 40 games.
If you're still interested, then you can find the product pages
here
and
here