Gigabyte 780i retail board shot
Changes to the cooling setup.
Published Wed, Nov 21 2007 10:27 PM CST
|
Updated Tue, Nov 3 2020 12:38 PM CST
The Nvidia 780i is indeed
not very far away
as Gigabyte showed us their retail version of the GA-780SLI-DS5 yesterday. The changes since our
previous encounter
with the board are rather small, but yet important. As you can see, not only the colour of the heatsink has changed, but the southbridge is now connected via a heatpipe as well.
The heatisink on the southbridge has managed to shrink thanks to the heatpipe and the final branding has been added to the main heatsink. By using this ginormous heatsink and heatpipe construction, Gigabyte has managed to get away with a passively cooled chipset, something that the Nvidia reference design doesn't.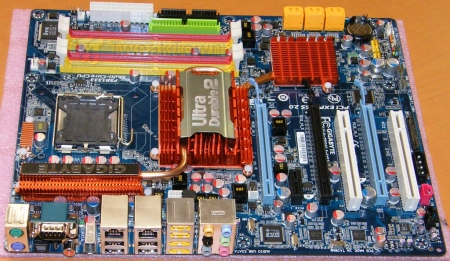 Otherwise no major changes has been made from what we saw a couple of weeks ago, although the good news is that the 780i chipset should start shipping a lot earlier than what was expected at one stage, as the problems related to the latest quad core processors from Intel appears to have been resolved. This means that if you're really lucky, you might be able to pick one of these boards up in time for Crimbo.