Radeon HD 3850 HDMI card spotted
Has dual fan cooler.
Published Wed, Nov 14 2007 12:39 AM CST
|
Updated Tue, Nov 3 2020 12:38 PM CST
We happened upon a few pictures of a somewhat different Radeon HD 3850 card from a Chinese manufacturer that we're not familiar with and we can't really make out the name, as it's only in Chinese, although the card also says Zero on it, but if this is the brand, then we're still not familiar with the company behind this card.
What makes this card so different is the fact that an onboard HDMI connector, rather than relying on a DVI to HDMI converter commonly used on ATI cards. This could be an advantage in tight spaces, as you don't need to make room for those extra couple of centimetres that the dongle takes up.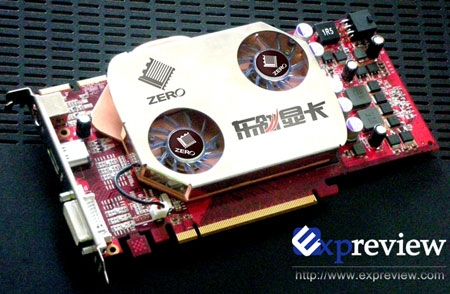 The downside of this card would be the custom made cooler, as although it's a novel idea, the two small fans are likely to add more noise, which is not desirable, especially for anyone thinking about putting this card into a HTPC type environment.
Hopefully some of the more well known ATI partners will sell cards with a built in HDMI connector as well, but skip the dual fan cooler in favour for something a bit quieter.
You can find a few more pictures of the card
here