Asus launches four x16 slot X38 board
P5E64 WS Professional.
Published Tue, Nov 13 2007 2:16 AM CST
|
Updated Tue, Nov 3 2020 12:38 PM CST
There doesn't seem to be anything stopping Asus from releasing a multitude of X38 boards and the latest addition is the P5E64 WS Professional. This board differs slightly from the previous workstation offerings by having four x16 PCI Express 2.0 slots. It's targeting a very small and specialized market, those that need more than four displays connected to the one and the same PC. It might actually work with four-way CrossFireX as well, but the future will have to tell that story.
The board features a PCI Express switch, which splits the 32 lanes of PCI Express bandwidth into four, which means that each x16 slot ends up with x8 bandwidth. There's also a single open ended x4 slot, but this one is not PCI Express 2.0 compatible, as well as a pair of PCI slots. But the special features of the board don't stop here as Asus has also implemented something it calls the G.P. Diagnosis card.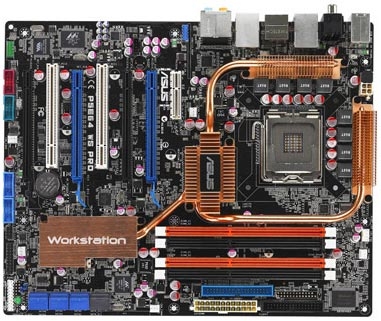 This is a small riser card that attaches to a connector towards the lower edge of the board and it adds a power and reset button as well as two LED displays. In terms of features, these aren't new, but it's the first time we've seen them on a riser card like this. It's also compatible with Asus' SAS card which goes under the rather peculiar name of SASsaby and we presume this is a PCI Express x8 or x4 card, but we couldn't find the product listed on Asus' website.
The board also features some fancy heatpipe cooling and Asus claims it is compatible with DDR3 1,800MHz memory via overclocking. It also features Asus' new EPU which is a fairly new power management chip which controls the power much more efficiently, especially during idle mode and low usage applications. In terms of hardware features there are no less than eight SATA connectors, one IDE connector, two eSATA, a total of 12 USB ports supported, 7.-1channel HD audio with optical and coaxial S/PDIF and dual Gigabit Ethernet.
You can find the press release
here
and the product page
here