Gigabyte Radeon HD 3850 pictured
Uses Zalman cooler.
Published Wed, Nov 7 2007 1:40 AM CST
|
Updated Tue, Nov 3 2020 12:38 PM CST
At our visit to Gigabyte yesterday we also got to see something unexpected, Gigabyte's Radeon HD 2950 prototype. The model name on the board was GV-RX295P512, although this will change before the actual launch. The P in the model name suggests Pro and since the card was using GDDR3 memory from Hynix, we presume that this is the Radeon HD 3850, although we weren't specifically told it was.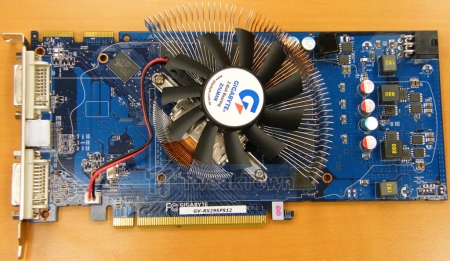 The card uses a Zalman cooler and as with the 8800 GT, Gigabyte is using their own blue PCB and the power regulation has been upgraded from a two-phase to a three-phase design. The card is quite long, especially compared to the 8800 GT, but the PCB was quite bare. The memory chips apparently don't require any additional cooling, nor should the power regulation.
It looks like AMD/ATI has got its act together this time and there will be cards at the actual launch, although Gigabyte might not have this specific board ready on the launch day.