Nvidia's 780a platform coming together
All the pieces add up.
Published Fri, Nov 2 2007 2:20 AM CDT
|
Updated Tue, Nov 3 2020 12:38 PM CST
Although it hasn't been officially announced as yet, Nvidia's new AMD platform is starting to shape up and it looks like the company is back to using a single chipset solution once again, but this time it will even be used on the SLI platform. The MCP78 as it's known as at the moment is the key component, although it looks like Nvidia is planning to pair it up with its N200 PCI Express 2.0 controller for its upcoming SLI boards.
Looking at things from a cost perspective it all makes complete sense, as it's cheaper to manufacture a slightly more expensive product and only make that one product than having to manufacture three or four different product lines. Adding a small auxiliary chip which can be used on multiple platforms is then a small price to pay.
iXBT has scored a picture of the upcoming Nforce 780a SLI reference board and you can clearly see the DVI and D-sub connectors on it as well as the N200 chipset due to the odd shape of the chipset cooler. The general board layout is very odd and hopefully this is a board that will never make it into production. None the less, it gives us a good idea on what the future holds.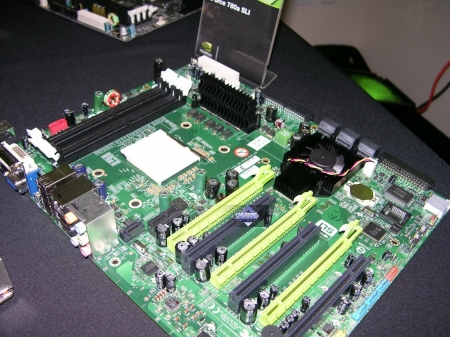 In contrast to Nvidia's 780i board which only has two PCI Express 2.0 slots, this board should have a full set of PCI Express 2.0 slots due to the different chipset used. The board supports DDR2-1066 memory and has four memory slots. It also has a rather odd layout when it comes to the SATA ports which hint of its reference layout, as it has six angled connectors, but then there's one port just behind the audio connectors and one just above the memory slots. It's as if it was designed for eSATA but Nvidia didn't get hold of the right connectors for the rear ports.
The integrated graphics part of the MCP78 is the most powerful integrated graphics solution to date, although we're not sure what AMD is working on at the moment. The MCP78 will feature DX10 graphics with Shader Model 4.0 support and it also supports Nvidia's new CineFX 4.0 engine. It will decode H.264 and VC-1 video in hardware as well as older standards. The good news is that the TDP is rated at a maximum of 14.3W so it shouldn't be as hot as previous chipsets from Nvidia.