D-Link launches Draft-N gaming router
Also has Gigabit Ethernet.
Published Thu, Oct 25 2007 7:53 AM CDT
|
Updated Tue, Nov 3 2020 12:38 PM CST
Although information about the OLED equipped DGL-4500 gaming router from D-Link has already leaked out onto the web, the company has finally launched it and it looks like it might be worth it for serious gamers. Not only does it have four Gigabit LAN ports, but even the WAN port supports Gigabit speeds, which is great if you happen to have a really fast internet connection unlike most.
It also features Draft-N Wi-Fi and it has three removable antennas and D-Link has added an extra twist by allowing it to work on both the 2.4GHz and 5GHz band with speeds of up to 300Mbit. There's a USB port on the back as well, but sadly this is not for external storage, nor will it function as a print server, as this is simply for Windows Connect Now profiles to be copied onto a USB flash drive.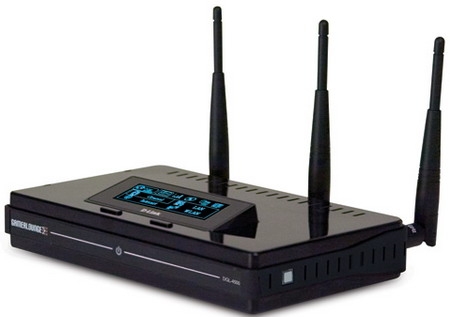 The OLED display is mostly just for looks and the brag factor, but it does display a few useful feature such as up and download speeds and router settings and it will also double up as a clock and calendar. We're sold anyhow, as it makes a fairly mundane piece of hardware look cool.
Finally we have D-Link's Gamefuel setting, which prioritises game packets over other network traffic to give you the lowest possible ping times and enough bandwidth so you don't lag out when it really counts. It also features more standard router features such as an SPI firewall, WEP and WPA encryption, NAT and VPN pass-trough.
The only downside as we can see it is the retail price of US$239.99 which is quite steep for a router. You can find the product page
here