Fujitsu launches Blu-ray notebook
It's got just about everything.
Published Thu, Oct 25 2007 5:49 AM CDT
|
Updated Tue, Nov 3 2020 12:38 PM CST
Fujitsu has just announced its latest notebook in Australia, the LifeBook N6460 and this baby packs some serious hardware. Starting from the top, well, of the spec sheet at least that is, it comes with a Core 2 Duo T7700 processor which is clocked at 2.4GHz and has 4MB of L2 cache. This is just about as good as it gets when it comes to mobile processors at the moment, although there are a couple of faster models, but we're not going to be that picky now and they would've made this notebook even more expensive.
The N6460 also comes with 2GB of DDR2 667MHz RAM, although it supports up to 4GB. Fujitsu has also fitted a 1GB Intel Turbo Memory module to the system and it has no less than two 250GB 2.5-inch SATA drives, although sadly these are most likely only 4,200rpm drives. However, the Australian Fujitsu site doesn't list the drive speeds, so we can only go with what's available on the US site.
A Blu-ray drive is also part of the package and again we have to rely in the specs from the US website which lists the drive as a single speed Blu-ray burner that will write to both BD-R, BD-R DL, BD-RE and BD-RE DL media as well as DVD+/-R at 8x and 4x for the re-writeable versions and 2x for dual layer media. Finally it will also write to CD-R at 8x and oddly enough to CD-RW at 10x, but our guess is that the CD-R writing speed is wrong. It will of course read all those format as well.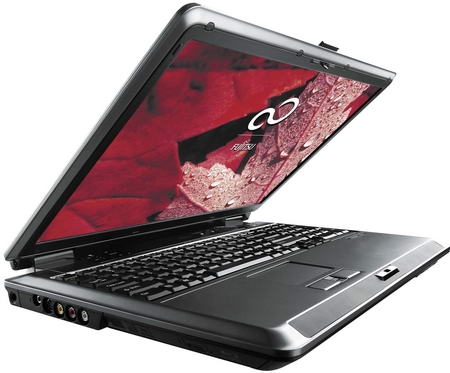 But the features don't end there as it has a 17-inch widescreen LCD, but sadly it only supports 1,440x900 resolution which is the only real downside to this otherwise nicely specified notebook, as it means you won't be able to watch all those Blu-ray movies in 1080p. Luckily it has an HDMI port, so as long as you have a TV that supports higher resolution, you can still watch the movies in 1080p.
Graphics power comes from a Mobility Radeon HD 2600, although Fujitsu only lists it as having 512MB of HyperMemory, but we'd dare to guess that this is a 256MB part. It also offers S-Video and composite video out and there's even a set of stereo audio RCA outputs as well as an optical S/PDIF. The notebook itself features a pair of stereo speakers as well as a small "subwoofer".
Other features include both a PC Card slot and an ExpressCard 54 slot, as well as a multi-format memory card reader that accepts all standard formats bar CompactFlash. It does of course have the latest 802.11n Wi-Fi standard onboard and there's also wired Gigabit Ethernet and an old fashioned dial-up modem for those that need that. The biggest downside is the retail price of AU$5,299 incl GST which puts it out of reach for most of us.
You can find the full specifications
here