Assassin's Creed Valhalla x Odyssey crossover sets up AC Infinity
The new Assassin's Creed Valhalla x Odyssey crossover could be a practice run for the new Assassin's Creed Infinity game.

Published Tue, Dec 14 2021 2:35 PM CST
|
Updated Fri, Jan 7 2022 4:00 AM CST
Ubisoft is planning a big Assassin's Creed Valhalla x Odyssey crossover. This could be the beginning of its ambitious plans with its never-ending Assassin's Creed Infinity game.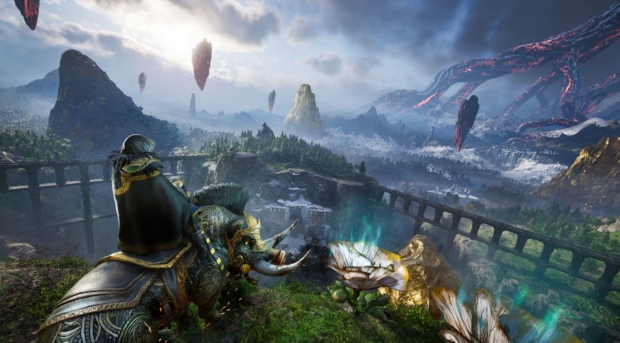 Having already conquered live services, Ubisoft wants to do something different. It wants to transform its franchises from separate mainline releases into singular releases that treat new "games" as content rather than sequelized titles. I call this new model games-as-a-platform, something I originally predicted with Halo Infinite. Think of it as a kind of MMO-like subscription model where you pay for full or segregated access to specific content points. Ubisoft's first games-as-a-platform title will be the new Assassin's Creed Infinity.
The new crossover event between Valhalla and Odyssey should set the stage for Infinity's content ramp up. The never-ending Assassin's Creed Infinity would be a launcher that hosts a bunch of "games" within it, and I predict that crossover events will play a big part of the content offerings included within Infinity. The convergence of multiple timelines and games is a valuable and powerful tool for engagement, combining nostalgia, creativity, and most importantly, existing video game assets that can be re-used and re-purposed.
The free Odyssey x Valhalla crossover event is now live on both games.
Ubisoft has yet to announce concrete details on AC Infinity apart from these three key points:
Here's more information from Ubisoft's official blog post:
A Crossover Centuries in the Making

Kassandra's appearance is part of a crossover that actually spans both games. Assassin's Creed Odyssey players will get a new free story, "Those Who Are Treasured," in which Kassandra or Alexios - having found the immortality-granting Staff of Hermes Trismegistus at the end of the game's story - travel to the island of Korfu as they wrestle with the question of what to do with their newfound longevity. In Assassin's Creed Valhalla, "A Fated Encounter" will bring Eivor to the Isle of Skye in Scotland, where they'll cross blades with Kassandra.

"The first question we wanted to answer was about Kassandra's immortality," says Clemence Nogrix, associate creative director at Ubisoft Quebec, the studio that led development of both crossover stories. "Then, we can allow ourselves to ask what happens when two Assassin's Creed protagonists [from past games] meet... and not when one is dead or an illusion. This time around, we could ask ourselves what would happen between these two characters, Kassandra and Eivor, who have very similar, very distinct personalities, but are also very witty and have their own personal egos."

"Those Who Are Treasured" can be played after finishing Chapter 1 of Assassin's Creed Odyssey and reaching Megaris, although it's recommended that players finish the main game's three story arcs - Family, Cult of Kosmos, and Mythology - for spoiler reasons. This story sees Kassandra finding a new purpose in life: hunting down First Civilization artifacts. "A Fated Encounter" will open up after Assassin's Creed Valhalla players complete the quest "A Wise Friend," in which Eivor helps Valka establish herself in Ravensthorpe.

"There's more to the encounter between Kassandra and Eivor, and I hope that players will be able to see that, even throughout the years, Kassandra is still Kassandra," says Nogrix. "Even if she, over 1,300 years, could have seen the rise and fall of the Roman Empire, traveled the world, and seen a zillion things, she's pretty much herself, still."
Related Tags