SK Hynix teases HBM3 with 12-Hi 24GB stack layout, 6400Mbps speeds
SK Hynix shows off next-gen 24GB HBM3 6.4Gbps memory at OCP Summit 2021, which offers up to 819GB/sec bandwidth per stack.

Published Nov 12, 2021 8:43 PM CST
|
Updated Wed, Dec 8 2021 4:30 AM CST
The world of consumer graphics cards shifted away from HBM to GDDR6 pretty quickly, with flagship NVIDIA GeForce RTX 30 series GPUs rocking ultra-fast Micron GDDR6X memory. But the world of HBM didn't stop, and now SK Hynix is showing off their 24GB HBM3 memory clocked at 6.4Gbps.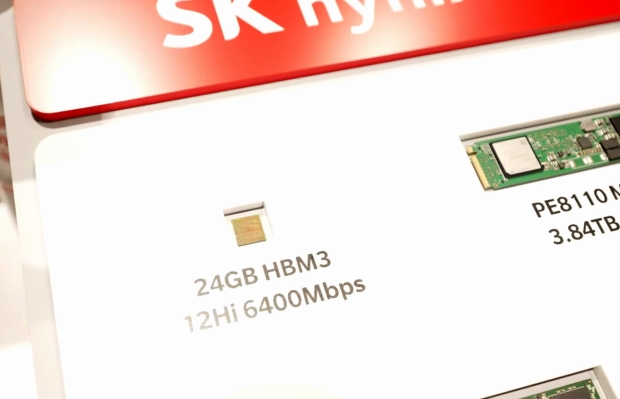 During the recent OCP Summit 2021, ServeTheHome spotted some of that delicious new HBM3 memory from SK Hynix and snapped a photo of it. It was pretty fast of SK Hynix to display it since the company only announced its new HBM3 memory less than a month ago now -- and it's as thin as a piece of A4 paper, too.
We don't have the final specification of HBM3 from JEDEC just yet, but SK Hynix has already bumped the initial spec from 5.2Gbps to 6.4Gbps -- and that's a good thing. We should see next-gen accelerators and other HBM3-powered products, with some absolutely brutally-fast memory bandwidth. Hell, the 12-Hi stack on a 1024-bit memory interface can drive 819.2GB/sec per stack... with multiple stacks, we're looking at memory bandwidth numbers never before seen.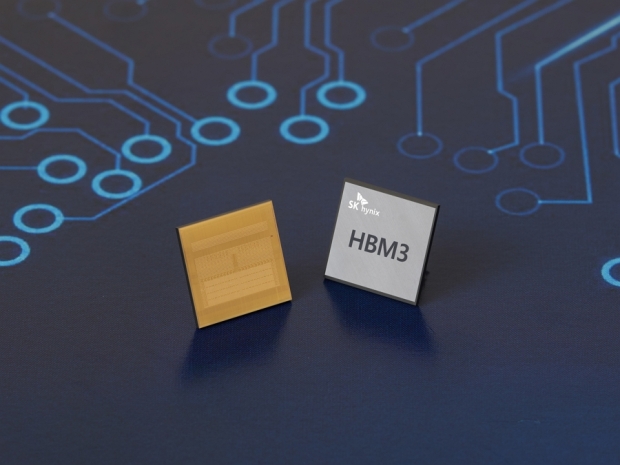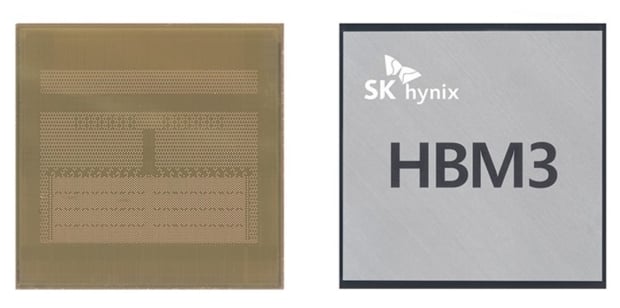 The new SK Hynix HBM3 memory could be found on a product with 12 x 12Hi HBM3 stacks, which would unleash 288GB of HBM3 on a single GPU, with a what-in-the-fresh-hell-black-magik-is-this 9.8TB/sec (yes, 9800GB/sec) of memory bandwidth. Insanity, and I want it now. Even if I can't use it, man 9.8TB/sec of memory bandwidth is just so awesome.
Imagine crypto mining on that thing.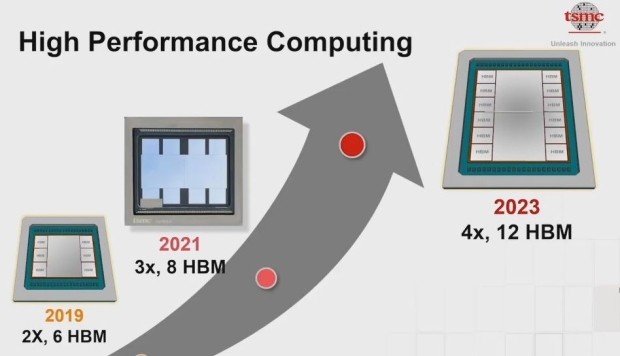 Related Tags