Asus Maximus Extreme preview
And more Asus X38 stuff.
Published Mon, Oct 1 2007 4:36 AM CDT
|
Updated Tue, Nov 3 2020 12:38 PM CST
We paid a visit to Asus' head office in Taipei on Friday and we got some exclusive pictures of their upcoming Maximus Extreme X38 board and some information about it and some of their other X38 products. There will be two different Maximus board in the R.O.G. family, the Extreme which we're looking at here and the Formula. Asus has already done this kind of thing once before with its P35 R.O.G. boards, the Blitz Extreme and the Blitz Formula.
As you can see from the board shot above, the Maximus Extreme has some rather extravagant chipset cooling and just as with the Blitz Extreme you can run is passively or with Asus' Fusion Block watercooling. Asus supplies a bag with various adapters for the most common watercooling systems so that you don't have to go out and spend extra money to make the Maximus Extreme work with your watercooling kit, that's the kind of included stuff we like to see. It's also got a rather big heatsink covering the southbridge as well as dual heatpipes going from there to the X38 chipset. The reason for this is because there's more than meet the eyes underneath it.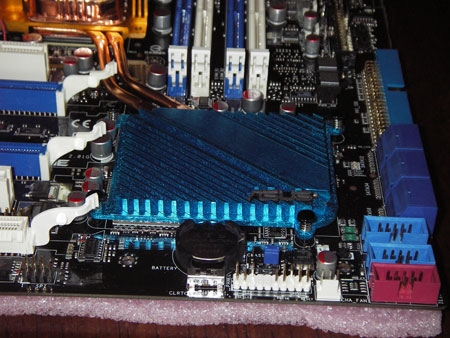 The Maximus Extreme is using an updated version of the CrossLinx chip as Asus calls it, from the Blitz Extreme, although this time it's quite different. The two blue slots you see both operate at x16 and are both PCI Express 2.0, but if you want to take advantage of the third x16 slot, then the second slot is split into two to offer x8 bandwidth for slot two and three. What wasn't quite clear was if the third slot will be PCI Express 2.0 compatible or not, nor how much power there will for the card in this slot.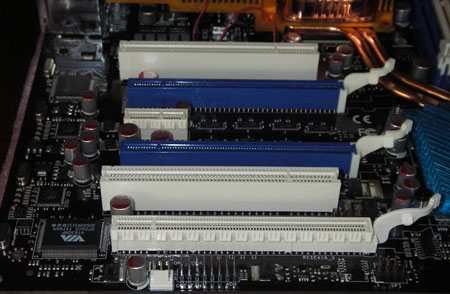 The advantage here is that you can use all slots on the motherboard without having to disable any onboard features or any of the x1 slots. The board also features two PCI slots and up to two x1 PCI Express slots. The top x1 PCI Express slot is for the SupremeFX II audio riser, but if this isn't being used, then the slot can be used like a normal x1 slot.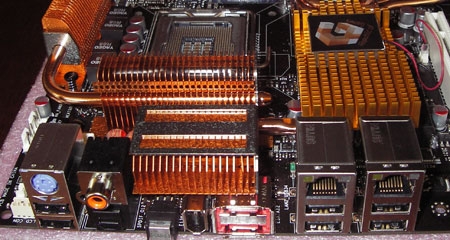 The rear I/O consists of a similar setup to the Blitz Extreme with a single PS/2 port, six USB 2.0 ports, optical and coaxial S/PDIF, FireWire and two eSATA. A neat touch is that the rear mounted CMOS reset button can be disabled with a small switch that you can see just below the battery two pictures up.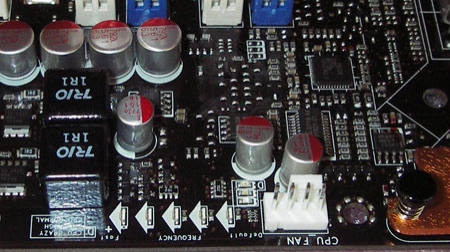 The board is coated in LED's and this time around most of them are useful. The four you can see at the picture above have to do with the CPU overclock and there are three more right next to it that indicates the CPU Voltage. There are several banks of Voltage LED's around the board and Asus has of course thrown in a few more just for good measure for those that are into LED's. For those that don't, well, you have the option to disable them in the BIOS.
This board should be a good overclocker and Asus has already hit some very high speeds with it. Aparently the R.O.G. series sells quite well and it's a vital part of Asus' motherboard business these days. We also got an update about the P5E family of X38 boards and although we featured a first look of the performance of the P5E3
here
, we'd just like to touch upon the Express Gate feature of the Deluxe/WIFI@n version of the board.
This is a pretty cool feature, although we're not sure that Asus picked the right launch platform for it. In essence Express Gate is a 512MB flash drive that is soldered onto the motherboard that runs a compact version of Linux. Asus claims it takes 5 seconds to boot into it and you can access the internet from here as well as use Skype. It's early days as yet, but Asus will add more features over time and expect to see a BIOS update utility for Express Gate in the not too distant future.
Coincidentally, Asus put most of its X38 range of motherboards online today and you can check out what the difference is between the various boards and the "budget" version of the R.O.G. Maximus series, the Formula which supports DDR2 memory is also online. You can find all the boards
here
.