God of War coming to PC with DLSS support, uncapped FPS, native 4K
God of War (2018) is coming to PC with NVIDIA DLSS and Reflex support, uncapped FPS, native 4K gaming, tons of graphics tweaks.

Published Wed, Oct 20 2021 11:11 AM CDT
|
Updated Mon, Nov 15 2021 9:09 PM CST
Sony continues breaking PlayStation console game exclusivity by bringing more PS4 games to PC.
God of War is the latest PS4 game to make the jump over to PC. Sony Santa Monica's 2018 magnum opus will be unleashed with the power of PC hardware and offer optimizations like NVIDIA DLSS support for boosted in-game performance (as well as NVIDIA Reflex support), native 4K resolution gaming, and uncapped frame rates. Like the PC version of Horizon Zero Dawn, God of War will also have a ton of graphical tweaks and presets for PC players to adjust.
"Our PC version includes a wide range of graphical presets and options so you can fine-tune your visual experience based on your setup. From higher resolution shadows and improved screen space reflections to enhancements to the ambient occlusion pipeline with GTAO and SSDO - God of War on the PC can create striking visual quality unique to the platform."
Here's a checklist of what God of War will offer on PC:
NVIDIA DLSS support

NVIDIA Reflex support

Native 4K resolution

Uncapped FPS

"Robust" controller support (DualShock 4, Dualsense, etc) with keyboard mapping

21:9 ultrawide support
God of War will release on PC on January 14, 2022.
Enter the Norse realm

His vengeance against the Gods of Olympus years behind him, Kratos now lives as a man in the realm of Norse Gods and monsters. It is in this harsh, unforgiving world that he must fight to survive... and teach his son to do the same.

Grasp a second chance

Kratos is a father again. As mentor and protector to Atreus, a son determined to earn his respect, he is forced to deal with and control the rage that has long defined him while out in a very dangerous world with his son.

Journey to a dark, elemental world of fearsome creatures

From the marble and columns of ornate Olympus to the gritty forests, mountains and caves of pre-Viking Norse lore, this is a distinctly new realm with its own pantheon of creatures, monsters and gods.

Engage in visceral, physical combat

With an over the shoulder camera that brings the player closer to the action than ever before, fights in God of War™ mirror the pantheon of Norse creatures Kratos will face: grand, gritty and grueling. A new main weapon and new abilities retain the defining spirit of the God of War series while presenting a vision of conflict that forges new ground in the genre.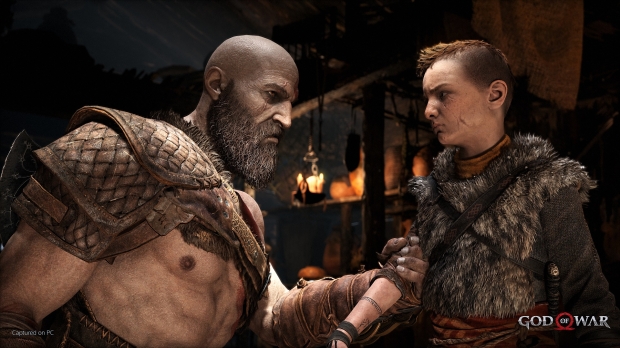 Related Tags