Amazon unveils Astro Household Robot, rolls around your house
Amazon unveils its first household robot, the Alexa-powered Astro -- which isn't just an Alexa that wheels around your house.

Published Sep 28, 2021 9:37 PM CDT
|
Updated Sat, Oct 23 2021 3:14 AM CDT
Amazon has just unveiled its first-ever household robot with the introduction of Astro, a new autonomous robot that listens to your voice commands and drives around your house on wheels.
The new Amazon Astro robot would wheel around your house when you're not home, and will keep an eye on things at home while you're away. It will patrol your home like a gimped Terminator, but on wheels and it looks harmless, and will send you a push notification if something happens at home. You can even have a live view of your house from you're phone while you're out of the house, if that's what you want.
Astro can move around a fair bit, and has multiple movements and expressions through its LCD-as-a-face, and front-facing cameras that will identify you, and show the world to you through Astro's all-seeing eyes. If you're concerned about privacy, you can tweak Astro with "out of bounds" zones where Amazon's robot can't go.
Amazon is looking at charging $1000 for its new Astro robot, but after the first batch of robots is sold the price will bump up to $1450. Amazon isn't just pushing out a one-and-done robot here, with an Astro 2 on the way. Even just to buy Astro, you have to be invited... exclusively.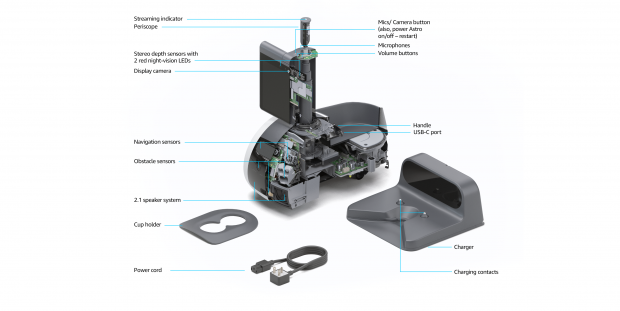 Keep home closer - Meet Astro, the household robot for home monitoring, with Alexa.
Introducing Intelligent Motion - Amazon Astro uses advanced navigation technology to find its way around your home and go where you need it. When you're not using Astro, it will hang out close by at the ready.
Stay connected from anywhere - Remotely send Astro to check on specific rooms, people, or things. Plus, get alerts if Astro detects an unrecognized person or certain sounds when you're away.
Unlock even more peace of mind - Activate your 6-month free trial of Ring Protect Pro subscription and have Astro proactively patrol, investigate activity, save videos in Ring's cloud storage for up to 60 days, and more.
Alexa Together subscription (Coming soon) - Remotely care for aging loved ones, giving you peace of mind while helping them live independently. Set up reminders, manage shopping lists, receive activity alerts, and more.
Put Alexa in motion - Astro can follow you with entertainment or find you to deliver calls, messages, timers, alarms, or reminders.
Designed to protect your privacy - Turn off mics, cameras, and motion with one press of a button and use the Astro app to set out of bounds zones to let Astro know where it's not allowed to go.
Customize with compatible products - Astro comes with a detachable cup holder and can carry other items (sold separately) like a Ziploc container, the OMRON blood pressure monitor, and a Furbo Dog Camera that tosses treats to your pet.
Related Tags