Cheaper 500GB Xbox Series X SSD expansion cards possibly coming
Seagate may release new cheaper 500GB SSD expansion cards for the Xbox Series X/S consoles to boost game storage capacity.

Published Thu, Sep 16 2021 12:35 PM CDT
|
Updated Mon, Oct 11 2021 8:56 PM CDT
Seagate may bring a cheaper 500GB Xbox Series SSD expansion card to the market in November.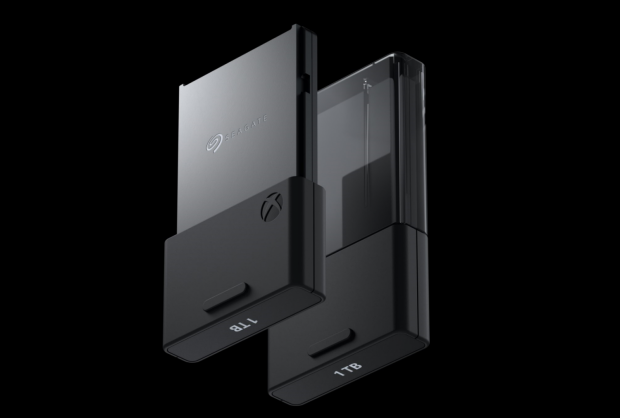 It's been nearly one year since the Xbox Series X/S consoles released, and there's still only one way to boost high-speed PCIe 4.0 SSD storage for next-gen games: The expansive $219 1TB Seagate expansion card, which is 73% of an Xbox Series S' price tag. Sony's PS5, on the other hand, will support a wide range of third-party SSDs.
Now it looks like Seagate and Microsoft will offer a 500GB SSD expansion card for $155. French games site Xbox Squad recently spotted a listing on Micromania for a 512GB Seagate Xbox SSD expansion card for 155 euros. Now gamers won't have to jerry rig SSDs with PCIe-to-CFExpress converters.
Read Also: Cloned Xbox Series X internal SSDs can work on other Series X consoles
Microsoft actually confirmed lower capacity SSD expansion storage would be offered at some point. In an October 2020 podcast with Major Nelson, Xbox's Jason Ronald confirmed the news:
"I think, over time, you'll see this is a category that's really critical to us. You'll see multiple options and different form factors and different sizes," Ronald said.
"But what was really important for us is that we had a simple, easy-to-use option available day one. You can expect to see more options moving forward."
The Series X/S standardized storage is a convenient solution that packs in the same SSD tech used in the internal Series X/S hardware (4D SK Hynix flash memory, Phison E19T memory controller, 2.4GB/sec speeds over PCIe Gen4 x2) on a Type-B CFExpress card solution. The result is easy, dependable, and portable storage that won't overheat.
Neither Microsoft nor Seagate have announced or confirmed the existence of the 500GB memory card.
Related Tags