Apple's 30% App Store commission is 'supracompetitive,' court declares
US courts will force Apple to face competition from App Store apps themselves to help reduce its supracompetitive 30% commission.

Published Sat, Sep 11 2021 1:25 PM CDT
|
Updated Wed, Oct 6 2021 9:10 PM CDT
Apple's current 30% commission has been declared as supracompetitive by US courts, leading to a sweeping court order that will change the App Store forever.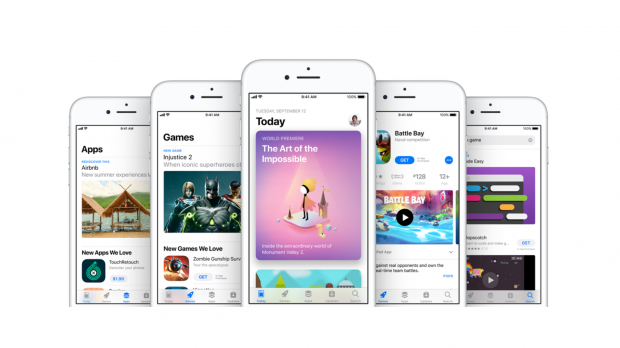 The most important thing to come out of the Epic vs Apple trial is a big win for developers. Reams of evidence and testimony led US District Court Judge Yvonne Gonzalez Rogers to determine that Apple's 30% revenue split is excessive and, combined with other practices, anticompetitive. The massive 185-page ruling outlines that Apple has not properly justified its 30% commission rate, which was arbitrarily decided upon in 2009 based on other platforms like video game consoles.
Judge Rogers argues that Apple's 30% cut has led to "supracompetitive pricing" and "excessive operating margins" that far exceed Apple's actual investment into the platform (case in point: Apple made over $15 billion from the App Store in 2020). Apple simply makes too much money compared what it spends on the App Store and what it charges developers, which Judge Rogers says stifles competition and innovation.
Alongside Apple's restrictive App Store policies that withhold key information from consumers about alternative payment schemes, this has resulted in Apple being declared anticompetitive by the court, and Judge Rogers has ordered permanent injunction against Apple to allow third-party payment processing on all App Store apps and games.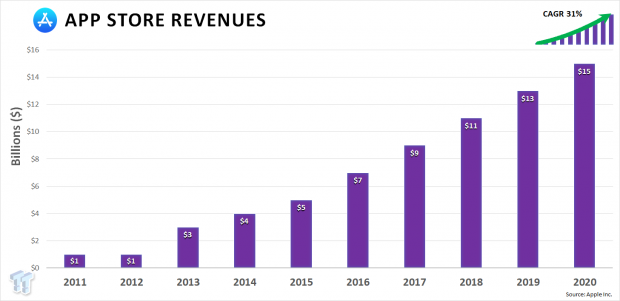 This effectively means developers can circumvent Apple's 30% revenue cut altogether. The idea is to force competition against Apple within App Store apps themselves which would theoretically lead to a reduction in the split. Once Apple starts losing money from competition, it's more likely to reduce its commission rates in order to win back developers.
More money for developers means more apps and games, more innovation, and potentially more value for the App Store itself. No longer would developers be crushed under the hardline 30% mandate.
"The evidence presented showed anticompetitive effects and excessive operating margins under any normative measure. The lack of competition has resulted in decrease information which also results in decreased innovation relative to the profits being made. The costs to developer are higher because competition is not driving the commission rate. As described, the commission rate driving the excessive margins has not been justified," writes Judge Rogers.
"...the Court finds that common threads run through Apple's practices which unreasonably restrains competition and harm consumers, namely the lack of information and transparency about policies which effect consumers' ability to find cheaper prices, increased customer service, and options regarding their purchases. Apple employs these policies so that it can extract supracompetitive commissions from this highly lucrative gaming industry. While the evidence remains thin as to other developers, the conclusion can likely be extended."
Check below for even more quotes directly from Judge Rogers' ruling:
"Apple also argues that it charged 30% from the very beginning when it was not a monopolist. However, there is evidence that Apple did not consider the rate to be sustainable at that time and questioned whether "enough challenge from another platform or web based solutions" will cause it to adjust. PX-0417. Moreover, Apple recognized that the App Store was "brand-new," with no true comparisons in the market, and set the rate set without considering

30% on Macs, which Dr. Evans agrees is competitive.

However, Apple's argument is suspect.

One, Apple relies on "headline" rates that Dr. Evans and Dr. Schmalensee agree are frequently negotiated down. For example, the Amazon App Store has a headline rate of 30%, but its effective commission is only 18.1%. Both Ms. Wright and Mr. Sweeney testified that consoles frequently negotiate special deals for large developers. Sealed evidence in this case confirms the same.

Two, just because it is the competitive rate for games in the console market, does not mean that the rate translates to the mobile games market. As described above, the App Store has very different operating margins than consoles, so even if the commission is the same, the economics and the nature of the products are very different. Thus, ultimately, these comparisons are not useful because the other stores do not operate in the same market.

Neither party grapples with the overarching issue of Apple's choice of model and how it subsidizes certain developers. Rather, each side manipulates the "zero" commission rates on free or freemium apps to their advantage. Apple relies on analysis by Dr. Hitt who argues that the average commission rate in FY2019 was 8.1% for game apps and 4.7% for all apps while Dr. Evans and Dr. Cragg ignore the category all together.

Ultimately, neither analysis is helpful. Developers and Apple have learned that the freemium model is significantly more lucrative than the alternatives given the ability for impulse purchases. For those, the commission rate remains at 30% notwithstanding the choice of other developers.

Last, Apple argues that the 30% rate is commensurate with the value developers get from the App Store. This claim is unjustified.

One, as noted in the prior section, developers could decide to stay on the App Store to benefit from the services that Apple provides. Absent competition, however, it is impossible to say that Apple's 30% commission reflects the fair market value of its services. Indeed, at least a few developers testified that they considered Apple's rate to be too high for the services provided.

Two, Apple has provided no evidence that the rate it charges bears any quantifiable relation to the services provided. To the contrary, Apple started with a proposition, that proposition revealed itself to be incredibly profitable and

there appears to be no market forces to test the proposition or motivate a change.

Accordingly, the Court finds that Apple's restrictions on iOS game distribution have increased prices for developers. In light of Apple's high profit margins on the App Store, a third-party store could likely provide game distribution at a lower commission and thereby either drive down prices or increase developer profits."
Related Tags